Kanye West's 'Donda' released amid polarizing reception and controversy
The last place we left off with Kanye West's tenth album "Donda," a second listening party was about to happen in Atlanta on Aug. 5, and it was slated for release at midnight. There was even a countdown and live stream in Ye's locker room recording studio leading up to the event.
Now, the album is out in the world, officially released on Aug. 29, but not without controversial appearances made by an abuser and homophobe, leaked group texts, an ongoing feud with Drake and Kanye setting himself on fire (no, really). 
So, what exactly happened?
The second listening party that occurred was far more dynamic than the first. This time clothed in a bulletproof vest printed with his mother's name, West performed in a bare space containing few items: a cot, two weights, a Balenciaga spiked jacket, notes written on a legal pad, another coat and two pairs of shoes. 
A startling point in the night occurred when Ye lay down on his cot and all the music ceased as "Donda" was chanted 58 times (which some fans have interpreted as Donda West's slowing heartbeat in her final moments).
Hundreds of onlookers also entered the stadium floor, draped in all black and began to circumambulate West as the album played through the night. New additions to the album featured artists like The Weeknd, Jay Electronica, Kid Cudi, Lil Durk and many more.
The night ended with the track "No Child Left Behind," and at the first organ tone, Kanye was lifted into the sky by his chest and was suspended hundreds of feet up in the air for the duration of the song.
Kanye West levitates out of the Mercedes-Benz stadium during #DONDA listening event. pic.twitter.com/W90rRmpcYX

— Pop Crave (@PopCrave) August 6, 2021
Unfortunately (and unsurprisingly), "Donda" yet again existed only in the minds of those who either attended the show or watched the live stream. Yet another theory emerged on Reddit that Kanye was attempting to create the first unreleased album because "Donda" had slowly "materialized itself into existence without being officially released." Still, there was no tracklist, confirmed album art or any updates as to the whereabouts of the album.
With hope almost completely extinguished, a third listening party was announced, this time in Chicago on Aug. 26. If anyone thought the second event was dramatic, this third was Kanye's direction at his maximum, which featured a large-scale replica of his childhood home.
Instead of the figurative ember he was during the first event, West literally became one after an act of self-immolation, and Kim Kardashian recreated a tableau of their wedding to close the show. Despite these theatrics, there was a point in the night that garnered more outrage and discourse than the two scenes combined. 
Kanye stood on the porch of his replicated home during a revision of "Jail" with a verse and vocals provided by DaBaby and Marilyn Manson who stood awkwardly beside the masked Ye. Both men incited controversy recently after DaBaby's unwillingness to apologize for homophobic comments made at Rolling Loud this summer and Manson for allegations of sexual abuse from at least 15 women.  
Of course, Kanye has never been afraid of provocation, but many viewed the inclusion of the men as appalling by giving a platform to a known abuser and homophobe, both of who have made little effort to right their wrongs, and in DaBaby's case, made arrogant jokes about the situation. Even just artistically, many were upset that the original version with JAY-Z was cut, as it was deemed better.
After bringing out Marilyn Manson and DaBaby, Kanye lit himself on fire at his Donda listening party. pic.twitter.com/XhF4C1BjxC

— CONSEQUENCE (@consequence) August 27, 2021
After a winding and endless road to get to it, "Donda" was released on Aug. 29, featuring 27 songs and a runtime of nearly two hours. The official track order that surfaced differed greatly from the previous listening parties and the album art was scrapped entirely in favor of a black square. 
Kanye later took online to express his dissatisfaction with the drop, saying Universal released the album without his permission and DaBaby's manager refused to clear the rapper's verse on "Jail pt 2," but ultimately his claims were disputed by many involved in the creative process.
"Donda" debuted atop the Billboard 200 with the biggest week in 2021 but was swiftly dethroned by Drake's "Certified Lover Boy," alongside a lengthy and unnecessary feud between the two. A week before the release of "Donda," Drake dissed West on Trippie Redd's "Betrayal" and escalated the situation by leaking a song cut from "Donda" that included a verse by André 3000, who appeared dismayed by Drake's actions and the feud altogether.
As for the album itself, it's perfectly fine. It's nowhere near Ye's best work, but it's not his worst either. Overall reception has been mixed due to the messy aesthetic, rollout and length of the work but in spite of this, "Donda" shows off Kanye's chops as a producer. He creates soundscapes that feel like they're going to swallow you and contrasts them with cuts that are meek and sparse. In its full context, "Donda" is an eerie and ominous depiction of Ye's grief and processing of his mother's death that has haunted him for the last 14 years.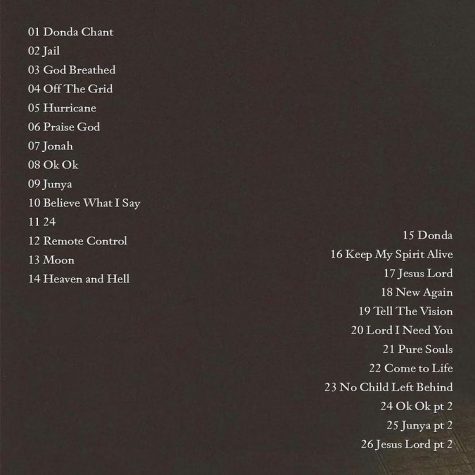 Nevertheless, there are plenty of standout tracks: "Off the Grid" features one of Kanye's best verse's in recent memory, "Moon" has contributions from Kid Cudi which is an automatic bolster, and "Hurricane" quite literally sounds like it is blessed with holy water. The features are what glue the project together and without them, it would have failed completely.
His cunning ability to flip a sample is on display too – "God Breathed" includes a sample of obscure punk group Liquid Liquid's "Bell Head" screeching vocals and echoes the personality of "Yeezus." "Believe What I Say" took "Doo Wop (That Thing)" by Ms. Lauryn Hill and flipped it to fit Kanye's image but didn't muddle the original essence of the song.
The elements of the gospel West includes throughout are some of his most beautiful applications to date, especially on the grand "24." Compared to 2019's "Jesus Is King," one feels more inclined to believe what Kanye sings on the track and throughout the album. It no longer feels like Kanye is hiding behind a figurative mask and humoring us by singing about his favorite fast food joint. The refrain of "we gonna be okay" and the Sunday Service Choir's vocals reverberating against the organs arrangements are extremely poignant even to a non-Christian.
Still, it suffers from its lack of editing. Did the album need alternate versions of four of the tracks at the tail end of the album? Couldn't Ye have just picked the best version and kept that one? Did we really need the clearance on "Jail pt 2?" Even if this album had a traditional release without the added hype from the parties and pushed-back dates, would people give it the same praise they are giving it now?
Kanye is always one to garner controversy, at this point, it's expected. Regardless of what you might think of the album or West himself, "Donda" has become a spectacle larger than something on the sonic level, and frankly, a work of performance art. Maybe the messy road to "Donda's" release is reflective of the grieving process or maybe it's all nonsense, no one will ever know. Only Ye could sell out three stadiums shows, have hypebeasts upselling his merch on Grailed and ignite a debate over the artistic integrity of "Certified Lover Boy" versus "Donda" all over a single body of work.
This feels like the first time Kanye has experienced closure with his mother's death, and even if it's chaotic, it's concrete and real. To garner this much attention around an LP that isn't even near his best work is a feat on its own, and no one man has all that power except for Yeezy.