Summer with Schneider
As the summer season comes to an end, it's fair to say there are those of us going through what Lana del Rey refers to as "Summertime Sadness." And as the saying goes, all good things must come to an end, but not for all of us.
While the summer may be ending, University junior Matt Schneider is just getting started. Alongside studying Integrated Marketing and Advertising at the University, Schneider brought his music career to fruition during 2021.
Learning to play the guitar at the ripe age of four, Schneider, 20, has grown a passion for performing live, just his voice and an acoustic guitar. Despite challenges faced due to the pandemic, Schneider has performed eight times at five different venues, scattered across NYS, but predominately right here in NYC, since May.
His favorite genre to not only play but create is singer-songwriter genre music. "It's kind of like soft rock, folk music," Schneider noted.  
Initially starting during his senior year of high school, Schneider has composed about 80 of his own songs, 30 of which are "100 percent finished and ready to play," said Schneider.
"I am most impressed by people who write good music. Songwriters impress me more than an incredibly skilled guitarist. That can be taught, but songwriting takes a lot of instinct and mind control, such as not overthinking, for example," he shared.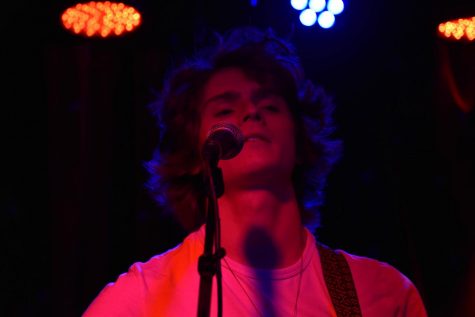 Schneider's journey into performing live in NYC started in May, performing at Club Groove, located on 125 MacDougal St., New York, NY. One hundred of his closest friends and family came to watch him perform his first paid gig. Club Groove hosts visiting performers in a nightlife setting for customers to enjoy live funk, soul, and R&B music. Later in June, Groove invited Schneider to perform again due to the fantastic turnout from his first performance.
"I sold out the reservation list at Club Groove for 100 people. I knew it would be the most people I would get in a while because it was the first time people were able to go out and do something. So, everyone was super, super high energy, and it was just a big moment for me because I felt like I was also able to kick-off the return of live music," said Schneider.
"All of my family came, and a ton of my friends popped out, so having big numbers in both of those areas were super nice. A lot of people from my old school, my hometown, and people I barely talk to anymore came to support it. It's hard for me not to say that Club Groove was my favorite performance," Schneider concluded.
University junior Jill Boyatsis, majoring in Film with a minor in Photography, is Schneider's photographer and attends a great majority of Schneider's performances to capture the musician in action.
"Matt does everything in his power to not only create a fun show environment but creates a new experience for people of all ages," she noted.
"My favorite part of his shows is always seeing his family come and support him. They haven't missed a show and he always dedicates a song to them," Boyatsis added.
In June, GigFinesse, a company dedicated to helping artists connect with music venues, helped Schneider land another paid performance at the Berlin Under Avenue A, a small music venue and nightlife club located on 25 Avenue A., New York, NY.
"There's a song that I wrote with a friend of mine, called 'Bobby,' that I debuted at Berlin Under Avenue A in June. It's not released yet, it's finishing up in the studio, but I wanted to start playing it for people, live," Schneider announced.
"We wanted it to be one of those sing-along crowd-pleasers. When you write a song, you sometimes picture how the audience will react to it, and you see a vision in your head of how it's going to go. And when I played it live, especially because it was the first time, that's exactly how it went. Every time I play that song, I leave it towards the end of the set because people actually love hearing it. It's one of my own, so it makes it even better," he said enthusiastically.
In July, Schneider did his second live performance at the Berlin Under Avenue A. Shortly after, he was asked to host two events to sponsor an energy drink called Aspire, where he played for five hours straight in Long Island, NY.
Not only did Schneider perform again at the Berlin Under Avenue A for the third time in August, but he also performed at a rock music bar called Arlene's Grocery, located on 95 Stanton St. New York, NY.
"For the record, it's in an actual venue, not a grocery store," he clarified.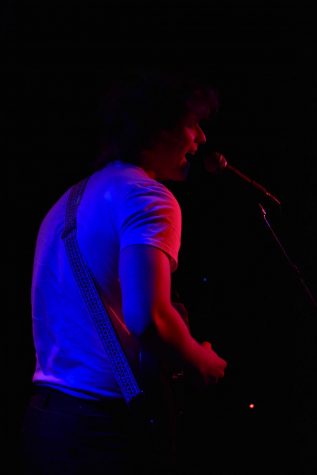 Towards the end of August, Schneider performed at East Berlin, a multi-venue nightclub hosting weekly dance parties and live music performers such as Schneider, located on 169 Avenue A., New York, NY.
Hundreds of people, including Schneider's friends and family, and even the stray person(s) who may happen to hear his performance from a distance, come to support the artist. But what many don't recognize is the amount of effort that goes on behind the scenes.
The dedicated musician plays the guitar "every day, no matter what." Practice, rehearsal, and taking care of his voice are all second-hand nature to Schneider.
"The real stress comes more from drawing bodies to the gig. It's not only how I make money, but it's also what keeps the faith in the people that book me. It's wondering if I'm going to meet the quota the venue wants. Even just for myself, to play for a large crowd because I've played for nobody before. And it sure is humbling if, at this point, you're still playing for nobody. It's easier said than done, but I've gotten it done," Schneider said with confidence.
"I'm doing these gigs, not just to make money, but more so, what's really important, is gaining exposure, forming this experience, and getting my name out there," he emphasized.
Schneider performed his latest live performance on Oct. 2 at the Brooklyn Music Kitchen, located at 117 Vanderbilt Ave, Brooklyn, NY. Schneider excitingly expressed that he performed with a backup band, showcasing primarily originally composed music to a live audience for the first time. 45 members of his friends and family attended in support of the rising musician.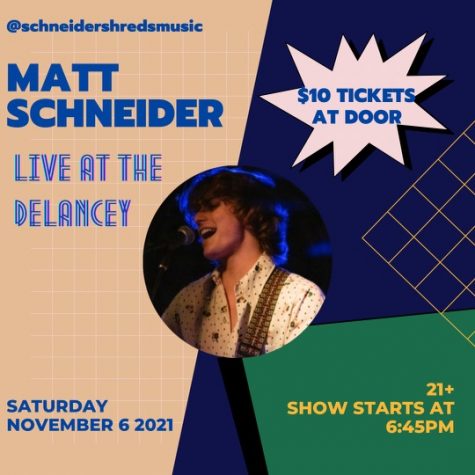 On Nov. 6,  Schneider is scheduled to perform with the same backup band at The Delancey, located on 168 Delancey St., New York, NY., for $10.00. The show starts at 6:45 p.m. with an age restriction of 21 years of age and older.
Schneider is currently booked through December.
"This summer was much more about performing than recording for me. I don't regret that. I'm happy I did it that way because it put so much fuel to the fire. As soon as covid restrictions started to ease up, I wanted to really slip right now. The idea was I wanted to skip the line, and I wanted people to come back to live music questioning 'who is this guy?' and I think I've achieved that a little bit so far," Schneider said.
And achieve, he did.
As for now, there is no set date, but they've penciled in the musician to play at Café Wha?, located on 115 MacDougal St., New York, NY., in December. The venue is famously known for having artists such as Bob Dylan and Jimmy Hendrix perform on their stage.
"To say the least, it's going to be a big milestone for me. That's going to be one of those gigs where I'm going to have to bring in a nice crowd because I'm probably going to be opening for a high-profile group in New York," Schneider said.
Unfortunately, Schneider's music is not available on listening platforms. But you can expect a single from him on all streaming platforms within the next two months.
"Recording music is actually a lot more difficult than it sounds. It's a huge investment, especially when you're working with a studio that charges a lot. So eventually, the idea is that I'm going to drop an EP, it just takes a long time, and I'm not trying to rush it," he said.
"I'm also really also conscious of the fact that simultaneous music releases, with gigging at the same time, is how you move. It's like peddling. Doing one will move you, but if you're releasing and playing live at the same time, it's the best way to draw up new listeners and draw people to your gig," he shared.
Although his music is not yet released for public consumption on streaming services, you can check out his music on Instagram, @Schneidershredsmusic. Here, you can find up-to-date information for his latest events, live performances, and videos of his previous gigs.
You can also check him out on YouTube, Matt Schneider Music.
The artist also has a website, matthewschneidermusic.com, where he encourages anyone to contact him for collaboration.
"I wish I could tell you I have like four songs out right now. But, it's just not the reality. I hope to utilize Pace's music stuff too. There's a ton of resources there. I'm very open to anything right now and just getting people to know me," Schneider expressed.
There are high hopes for Schneider, with the future of his music career shining bright.
"I can only say I see my music career going far. If you don't have that attitude in the first place, why bother," Schneider said.
"I see myself being able to achieve the goal, which is making my living off music, playing professionally, and recording professionally," he said with optimism.
So, while many of us may be bumping "Summertime Sadness" by Lana del Rey, soon, you can listen to Schneiders music to get rid of those summer blues and remind yourself of the lively summer to come in 2022.