American fashion in action: Met Gala 2021 recap
Fashion's biggest night was finally revived on the night of September 13th – after two long years. The 2019 Met Gala, themed "Camp: Notes on Fashion" brought several memorable looks to the pink carpeted stairs of the museum. Although normally in May, the gala was postponed to September due to COVID-19 and was obviously canceled altogether in 2020. The theme of this year was "In America: A Lexicon of Fashion."
The event was live streamed on Vogue Magazine's Twitter account, showing the celebrities as they came in. Hosting the livestream were Keke Palmer and Ilana Glazer, who interviewed each guest about who they were wearing. The event itself was chaired of course by Vogue's Editor-in-Chief Anna Wintour, as well as American designer Tom Ford and Adam Mosseri, the head of Instagram. Because of the pandemic, the event was set to be more intimate than usual. Whether the looks on the carpet were loved or hated, on theme or off theme, this night was definitely one to remember.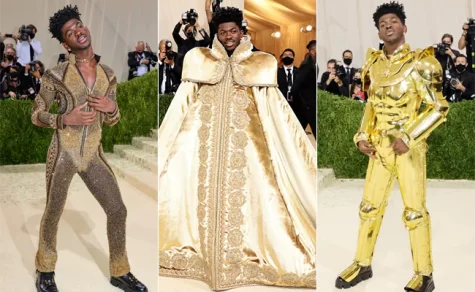 Early on, rising star Lil Nas X arrived, and pulled a 2019 Lady Gaga with his look. In custom Donatella Versace, the singer arrived in an enormous, decorative gold cape. He then took the cape off to show the shining gold suit of armor he had on underneath and then moved flawlessly to his final look: a glittering gold bodysuit lined with the Versace pattern. If there is any way to enter the Met Gala, it's to add in a few reveals!
Billie Eilish arrived soon after in a pale pink dress reminiscent of Marilyn Monroe and Holiday Barbie gowns. The dress was by Oscar de la Renta, and Eilish made a deal with the brand that she would only wear the garment if they agreed to create entirely fur-free garments in the future. Eilish wrote in the caption of her Instagram post about the gala, "I'm honored to have been a catalyst and to have been heard on this matter. I urge all designers to do the same."
A few celebrities made meaningful references and paid homage to certain figures of history. Nikkie de Jager, better known as NikkieTutorials, walked the carpet in a beautiful turquoise gown by Edwin Oudshoorn, covered in flowers and a sash that read "Pay It No Mind." This saying referenced trans icon and activist Marsha P. Johnson, who used this saying whenever someone questioned or criticized her gender.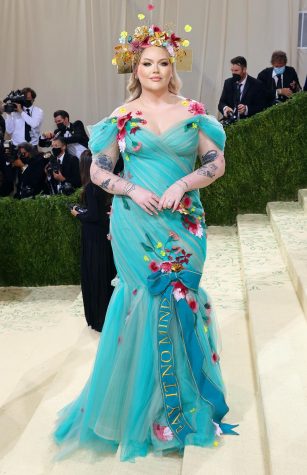 Similarly, Elliot Page made his first appearance on a red carpet since coming out as transgender. He wore a classic black Balenciaga suit, but also wore a bright green rose as a boutonniere. This was likely a reference to poet and playwright Oscar Wilde, who was imprisoned for his queer identity. On the opening night of one of Wilde's comedies, he told a few of his friends to wear a green carnation on their lapels, a flower he often added to his own ensembles. From that point on, this subtle accessory became a way for queer men to identify each other.
By the end of the gala, many wondered about singer Rihanna's whereabouts, whose Met Gala looks are always highly anticipated. Keke Palmer even referred to the event as "The Rihanna Gala." While not arriving on time to the gala itself, the star came to the after party with her lover, A$AP Rocky. She wore a black ruffled dress by Balenciaga, paired with a beanie and Bulgari diamonds. Although arriving fashionably late, she did not disappoint.
Other celebrities chose a not-so-subtle approach to their red carpet looks, stirring up some controversy. Congresswoman Alexandria Ocasio-Cortez made an appearance in a simple white dress by Brother Vellies and Aurora James, with the words "TAX THE RICH" across the back in a spray-painted fashion. This did not go over well with several people, given the fact that tickets for the gala itself are $30,000.
University senior Kate DiFilippo said, "I think the way we idolize public servants is strange, even dangerous behavior. AOC painting 'tax the rich' on the back of her couture gown on her way to an event that costs the same price as some people make in a whole year, while New Yorkers protest outside and are attacked by the NYPD, is performative to the highest degree. Yes, that money is going to charity, but AOC is a politician who claims she's 'for the people,' so I think people would have liked to see her put that money and energy into more pressing and extreme issues."
She continued, "If she was going to come bearing a statement like that, she could have at least done something like Billie Eilish and partnered with a bigger brand and in exchange they donate an amount to homeless New Yorkers. Of course politicians have attended the event before but for someone who talks so much about taxing rich people, she sure acted like one that night."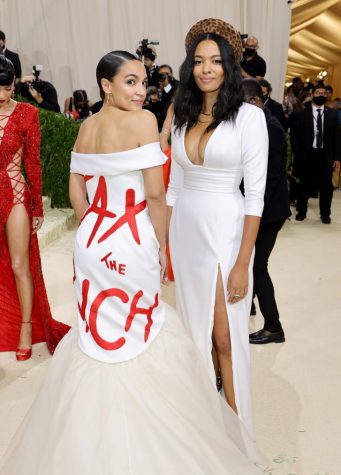 Many were also disappointed in the fact that the already questionable theme was not followed by many of the guests. Several stars hit the nail on the head, such as actress Lupita Nyong'o's Versace denim ensemble and "Euphoria" star Barbie Ferreira's roaring 20s gown by Jonathan Simkhai. However, the consensus seemed to be that the theme was not fully embraced or even understood.
University senior Mclean Haws said, "I think the theme of the Met Gala was unorganized and confusing. Of course there were people on the carpet who looked amazing, but overall there was no cohesion, and it left me a little unimpressed."
While the general opinion of the gala seemed to be a bit underwhelmed, it was certainly still fun to watch. The gala will happen again in May 2022, featuring the second part of the theme, entitled "In America: An Anthology of Fashion."