How Demna Gvasalia is changing the face of Balenciaga, one red-carpet at a time
Premier designer brands are famously known to dispense five or more collections annually, revealing the newest trends in the alluring and beauteous fashion world. This year, Balenciaga was the exception.
Breaking away from the traditional fashion bandwagon, Balenciaga's creative director Demna Gvasalia announced in Sept. 2020 that the designer brand would parcel seasonal collections once per year.
At Paris Fashion Week 2021, Balenciaga prevailed expectations, displaying a modernized exhibit of their Ready to Wear (RTW) Spring 2022 collection. Hosted at the Théâtre du Châtelet in Paris, France, Mr. Gvasalia produced a disparate fashion show that initially appeared as a movie-style premiere event.
Instead, the show's entirety played with traditional fashion accords in harmony with the bizarre modern norms of our digital society.  
In an interview with WWD in Sept. 2020, Mr. Gvasalia hinted at showing pre-collections of the designer brand during Paris Fashion Week 2021, the extent of which the fashion industry did not fully comprehend until the show disclosed his ultimate vision.
As with any fashion show, it is customary for guests and ambiguous industry personnel, editors, retailers, handlers and friends of the house to wear earlier seasons of the designer brand.
The combination of earlier collections and new designs made it nearly indistinguishable as to who was modeling new Balenciaga and who was a guest wearing past collections to embody the glory of Balenciaga S22.
The identity of those who attended and those who modeled were intertwined, creating the mirage that everyone was celebrity and model. Each person to walk the red carpet either posed as a celebrity was an actual celebrity posed as a model, a celebrity photographer posing for cameras as a model, or was a celebrity model posing as themselves. It was a whirlwind of who and what was a part of the show.
In short, everyone in attendance was in on Mr. Gvasalia's master plan. 
The disparity unraveled into hysterical irony once inside the Théâtre du Châtelet. Attendees were greeted at their seats with a massive flat screen on the ornate proscenium, projecting live footage of the red-carpet entrances.
The bottom right of the screen identified which look the model was wearing, indicating that audience members were involved in showcasing pre-collections of Balenciaga moments prior.
Part of Mr. Gvasalia's goal for Balenciaga is to create an imperial signature contrary to its designer competitors: a combination of mundane carelessness and prêt-à-porter ball gowns, puffer coats, and sweat sets.
A total of 64 looks walked the red carpet, exhibiting enormous gowns, au courant sequined and patterned dresses, oversized tailored blazers, puffer coats, jeans, track pants, tall pointed stilettoes, monstrous gothic platform Crocs, merciless sunglasses, various colored handbags and plenty more. Gvasalia commenced the show at the rear, stepping out in an all-black veil, hoodie, and jeans.
After the collection was displayed on the red carpet, models and celebrities alike gathered to witness the surprise premiere of "The Simpsons/Balenciaga," a comedic collaborative short specifically made for the event. Click here to watch the entire short film. 
The storyline follows Homer emailing Balenciaga, asking to send him "the cheapest thing" with the Balenciaga label attached for a birthday present for his wife, Marge. In response, Balenciaga sends Marge a gorgeous gown with pointed shoulder pads in their signature fluorescent green.
After wearing it, Marge sends the dress back with a note describing her aura for the dress's beauty, but nostalgic of "those 30 minutes of feeling a little special." Sympathetically, an animated Gvasalia flies over to the "style deprived" and invites all of Springfield to Paris to partake in his fashion show.
It became even more apparent that Mr. Gvasalia was playing with the idea of the audience's involvement in bringing the fashion show to life.
"I've always loved 'The Simpsons,' for its whole tongue-in-cheek nature and the slightly romantic-naïve side to it," Mr. Gvasalia told Vogue.
Notable celebrity guest Cardi B, wearing past-season Balenciaga, accompanied her husband and rapper, Offset. He also participated as an official model in the show wearing Look 60, "a voluminous leather jacket slipping off his shoulders, baggy black pants and plaid shirt/skirt wrapped around his waist," as described on Gvasalia's Instagram.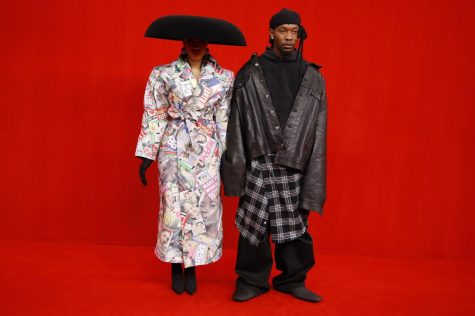 Other celebrity models included professional racecar driver Lewis Hamilton, French actress Isabelle Huppert, Canadian actor and producer Elliot Page, fashion photographer Juergen Teller and Russian model Natalia Vodianova.
The participation of unconventional models, rather celebrities encroaching every corner of the artistic realm, presented a deliberate and purposeful message: the fashion industry and its system can and will evolve.
The Balenciaga fashion show is a brilliant example of how the system will advance, where luxury brands and digital consumers can conjoin into a singular entity. In one night, those in the exclusive fashion circle witnessed first-hand Mr. Gvasalia slowly raising the bar, bringing to light and questioning the relationship between digital fashion and the consumer, which was a relationship that was upended during the pandemic.
"With the red-carpet affair, Mr. Gvasalia turned the whole existential question about the return of in-person events (good or bad?) into a treatise on the exercise itself, blowing it wide open and rendering it moot," said Vanessa Friedman of the New York Times. 
Demna Gvasalia's decisive red-carpet approach to ditching antiquated societal norms has made him nearly untouchable and challenging to match in the fashion industry, making Balenciaga's S22 fashion show the talk of the town and the designer to outrank.