Givenchy faces backlash for noose style jewelry at Paris Fashion Week
Content warning: discussion of lynching and violence against POC
Givenchy recently was under massive scrutiny following the display of a noose-styled necklace and earring at its spring-summer 2022 Paris Fashion Week show.
Diet Prada was the first to call out the French fashion house for their offensive jewelry on an Instagram post reading: "You'd think the industry would've learned not to put things that resemble nooses around a model's neck after the whole @Burberry noose hoodie debacle in 2019… This @givenchyofficial necklace that just came down the runway steers dangerously close to that same territory. It really makes you wonder how no one noticed, but alas, history repeats itself".
Historically, a noose has been used as a popular style for mass lynchings of African Americans during the era of slavery and post-slavery in America.
Despite the resemblance, commenters under the Diet Prada post have had mixed reactions. Some believed the fashion blog was reaching with their comparison and was trying to stir up drama, while others agreed with the position and outrage began to spread.
Many have wondered how an offensive piece of jewelry that likely went through multiple channels of approval made its way onto a major stage, especially with a noose having such a gruesome and negative historical connotation.
A popular theory that made its rounds through social media was that the necklace was allowed to grace the stage for publicity at such a global event.
The fashion world is no stranger to offensive pieces. For years, nooses, Native American clothing, accessories representing shackles and jail chains and more have made their way on to the stages of some of the largest events in fashion, and the events at Givenchy's Paris Fashion Week show is just another instance of how history continues to repeat itself; speaking grave concern that change may be further away than expected.
With 2020 being a height of racial injustices and protests, LVMH the parent company of Givenchy – along with several other luxury brands – pledged to increase their diversity and inclusion efforts as a way of showing that they stand in solidarity with the Black community. LVMH's 2020 statement published in the New York Times read:
"While we have made continued progress, we know we have more work to do to increase the representation of black employees at all levels and we are holding ourselves accountable for continuing to advance our D&I efforts across our Maisons, globally."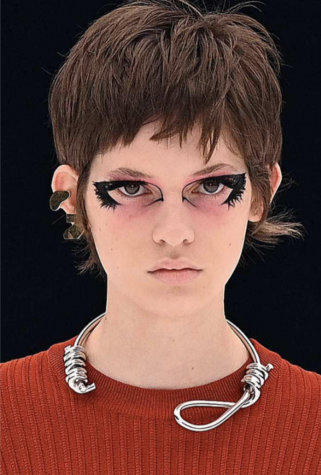 However, the negligent oversight of such offensive pieces of jewelry has many searching for the progress LVMH claims they've made and for someone to take accountability for the events at Paris Fashion Week.
Neither LVMH, Givenchy, or its creative director Matthew W. Williams have responded to the backlash their jewelry has caused.