Quintessential fall activities in the city
With temperatures dropping and pumpkins adorning the dining hall, fall is right around the corner. Get your fall jackets and your Halloween costumes ready, because there's so much to explore in this amazing city! The Pace Press has compiled a line-up of fall and Halloween activities, so grab a friend and join the ghosts and ghouls of New York City in celebration of spooky season.
Fall Foliage Cruise
Located at Pier 36 right next to the Van Gogh Art Exhibit, the Fall Foliage Cruise takes you on a beautiful scenic tour of Manhattan to explore the autumn foliage. Taking you down the East River and into the Hudson, you'll get great views of the Brooklyn Bridge, the Statue of Liberty and more. Approximately 2 hours and 45 minutes long, this cruise has indoor and outdoor seating with food available for sale as well.
Nightmare on 12th Street – NYC Welcome Week Party (18+)
Join other college kids this Halloween for a party you won't forget. NYC Welcome Week kicks off Halloweekend with an 18+ party on Oct. 29. Doors open at 10 pm for all to party like the living dead! While costumes are optional, they highly encourage putting on your best outfit or even getting a group costume together to celebrate. 
The Village Halloween Parade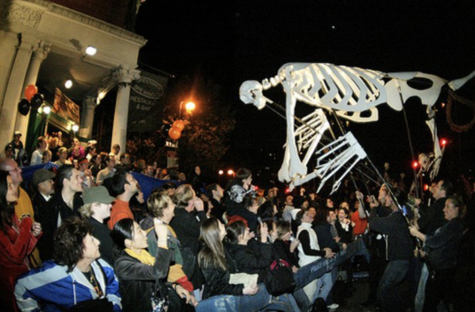 The 48th annual Village Halloween Parade on Oct. 31 is not something you want to miss. From the generation of so many wonderful New Yorkers, enough funds were raised to bring this parade back to life after COVID-19. Join comedian Randy Rainbow (appointed Grand Marshall of this year's parade), thousands of spectators and participants and more than 50,000 ghouls, witches, monsters, robots, Jedis and giant puppets as they parade the streets of New York City. Organizers ask that spectators get creative with their everyday face masks, to show their Halloween spirit, while still adhering to COVID-19 guidelines.
The Pumpkin Flotilla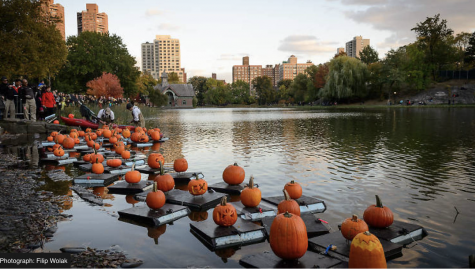 All are invited to carve pumpkins and bring them to the Pumpkin Flotilla on Oct. 28. Whether you bring your own, or want to see the creations of your fellow New Yorkers float across the Harlem Meer, come on down! Jack-O'-Lanterns float down the Meer located in Central Park, beautifully lit on Oct. 28. On the days leading up to the Flotilla, you can join others in the park for ghost stories on Oct. 26 and a scavenger hunt around the Meer on Oct. 27.
Queens Botanical Garden
View this post on Instagram
This year, the Queens Botanical Garden is hosting a harvest fest complete with a pumpkin patch on Halloween. For only $6, you can enjoy this event filled with live music, magic shows, food vendors and a trick-or-treat trail. You can also visit the Botanical Garden for their outdoor movie nights to watch Halloween movies for the month of October. The Nightmare Before Christmas and Beetlejuice are just a few on queue for the movie nights, and those who buy a ticket get a complimentary after-hours pass to the garden. 
Night of the Living Drag 
Brought to you by the drag artists of "Rupaul's Drag Race," this event is jampacked with performances from Violet Chachki, Alyssa Edwards, Aquaria, Jaida Essence Hall, Gottmik, Kandy Muse, Plastique Tiara, Rosé and Kim Chi. Spectators are brought through the untimely deaths of these artists and they are resurrected as fabulous flesh-eating zombies for a deadly showstopping final number. Watch them tear up the stage on Friday, Oct. 29 at Terminal 5.