R.Kelly finally found guilty: a timeline of a predator's fall from grace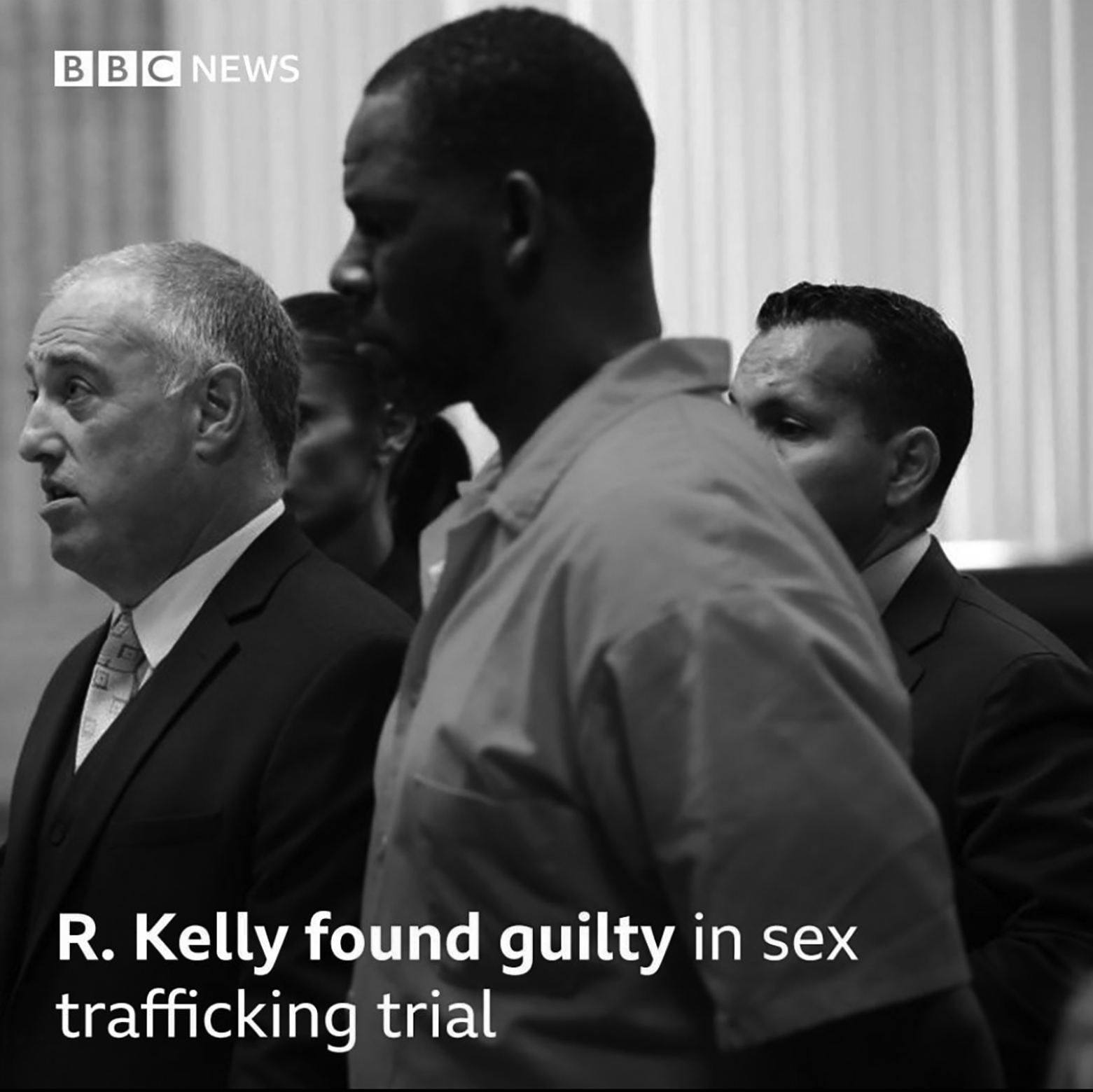 CONTENT WARNING: Discussion of Sexual Assault 
On Sept. 27, 2021, R. Kelly was officially found guilty on one count of racketeering and eight counts of sex trafficking under the Mann Act, which bans the transportation of any person across state lines for any immoral purpose. Thanks to the brave yet graphic testimony of 11 of his accusers in attendance at the trial, Kelly now faces up to ten years of life in prison. His sentencing, which is scheduled for May 4, 2022, will mark the end of his 25-year-reign of terror as a sexual predator. 
Best known for his hit singles "I Believe I Can Fly" (1996) and "Ignition" (2002), Kelly's wild success and influence in the music industry enabled him to create a cult following of young women that he would use to assert his disgusting and misguided sexual dominance. He also boasted a tight-knit circle of industry professionals who would remain loyal to him throughout his music career. 
Kelly's first major scandal made headlines in August of 1994 after he illegally married 15-year-old R&B singer Aaliyah. The marriage was later annulled due to her status as a minor, but his inappropriate relationship with Aaliyah was just the beginning of his long history of sexual misconduct. Just two years later, he married Andrea Lee, a dancer from his touring company who found herself manipulated by Kelly. The pair went on to have three children, and Lee quickly became an outspoken voice against Kelly in the wake of their divorce in 2005.
In 2000, the Chicago Sun-Times released an explosive article that exposed R. Kelly's horrifying actions through the use of court documents and interviews. The Chicago Sun-Times would continue to be a lead public investigator throughout the entirety of Kelly's tumultuous career. Despite a lawsuit filed against Kelly in 2001 by former Epic Records intern Tracy Simpson, he was able to maintain his star status and even performed at the Super Bowl and the Olympics. 
In 2002, Kelly was finally indicted on charges of child pornography after the Chicago Sun-Times reportedly received an anonymous videotape that depicted R. Kelly engaging in sexual relations with a minor. Despite such serious charges, Kelly would not face a jury until 2008, where he would later be acquitted on all counts. Following the trial, Kelly quietly, yet powerfully, used his remaining influence to build a cult of young women, many of whom were forced to endure years of sexual, mental and physical abuse at the hands of a man who had promised them success. 
The 2010s saw the rise of the social media revolution, which would be a key ingredient in the final demise of R. Kelly. In 2017, BuzzFeed News released an article written by former Chicago Sun-Times reporter Jim DeRogatis. The report gave a voice to the parents of Kelly's victims, who claimed their daughters were brainwashed and forced into a cult-like environment that left them separated from their families with no hope of contact and no foreseeable way out. 
The article acted as the launchpad for the #MuteRKelly social media campaign that would eventually lead major music streaming platforms, such as Spotify and Apple Music, to remove Kelly from its playlists in 2018. The #MuteRKelly campaign was a part of a much larger conversation surrounding sexual assault and harassment known as the #MeToo movement. The movement was the first to garner an international spotlight that would finally put the voices of sexual misconduct victims center stage and would leave predators with nowhere to hide.
The final stages of R. Kelly's career began in 2019 with the release of the Lifetime documentary, "Surviving R. Kelly." This powerful three-part documentary series featured critical testimonials from Kelly's ex-wife Andrea Lee, his family and managing team, the parents of the victims and the victims themselves. This national spotlight marked the singer's official fall from grace and rightfully ensured there would be no returning to his place as an industry superstar. 
On July 11, 2019, Kelly was finally indicted by a federal ground jury in Chicago on 13 different counts that included child pornography, enticement of a minor, and obstruction of justice. These counts came just mere months after he was arrested and charged with 10 counts of aggravated sexual abuse before being released on bail. Throughout the remainder of the year, Kelly continually denied any allegations against him and continually pled not guilty to every count made against him, including the later counts of child pornography and sex trafficking. 
In August of 2021, Kelly began his long-awaited trial and claimed his countless victims were simply lying to exploit his fame and gain notoriety for themselves. Despite his last-minute attempts to feign innocence, R. Kelly was, at last, muted. Although nothing will ever fully make up for the years of emotional damage and abuse that his victims were forced to endure, they can now begin the healing process with the knowledge that their predator, the man who once believed he could fly, flew a little too close to the sun and finally got scorched.