Harry Styles 'Lights Up' NYC with Love on Tour
Wildly adored musician Harry Styles has had quite an eventful fall here in New York City, to say the least. Since the release of his sophomore album "Fine Line" at the end of 2019, fans excitedly awaited his would-be 2020 world tour with opener Jenny Lewis, "Love on Tour." 
While the tour unfortunately had to be rescheduled, the significant decline in COVID-19 cases in the summer of 2021 led Styles and his team to make the decision to kick the tour off in the fall. Safety precautions were put in place beforehand; concert attendees were required to show proof of vaccination or of a negative COVID test, and everyone in the venue had to wear a mask.
Styles had originally scheduled two shows at Madison Square Garden, then added a third after the first two quickly sold out. Most fans had bought their tickets in 2019, expecting to attend in the summer of 2020. Since concerts, music festivals and other shows only became more acceptable to attend at the end of this summer into the fall, many wondered how a (mostly) post-COVID concert experience would be.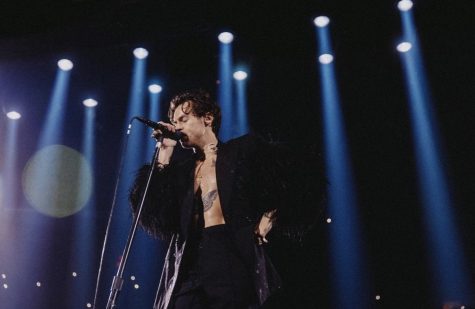 University senior Maeve Casey spoke about her experience: "My 'Love on Tour' show had the nicest and most chill crowd ever. I was in the general admission pit, so we went to the venue at around 4 a.m. to get wristbands. Security was jostling us around a lot, and it turned out to be the fans who were the ones to help each other out and get the lines organized. When we went inside later for the show, everyone in the pit was just sitting cross-legged and talking to each other and complimenting each other! For most concerts, I basically exclusively do GA, and this was also the first concert where I was not pushed a single time."
University junior Abby Braggins shared: "The energy of everyone at the show was so positive and fun! I was dancing with strangers like they were my best friends and it was so liberating! My favorite part was when he played 'What Makes You Beautiful,' and everyone lost their minds, I think about that moment all the time!"
If the shows for the tour itself were not enough for New Yorkers, Styles announced in February of 2020 two Halloween-themed shows (also at Madison Square Garden), which he creatively named "Harryween." Referred to as "fancy dress parties," the shows encouraged Halloween costumes, and fans did not disappoint. Photos of costumes flooded social media, and these photos landed a Vogue article, centered around fans. Styles and his band showed up in Halloween costumes as well. He came as Dorothy from "The Wizard of Oz" on the first night, and a clown on the second night. 
University senior Jessica Paredes, who attended Harryween on Halloween night, shared: "Harry makes us feel special and individual to him and I think Harryween was a reflection of that. He performed 'Medicine,' one of his unreleased songs, and a cover of 'Toxic' by Britney Spears, which was a surreal thing to witness in person that everyone who was there that night shared together. I also really liked his costume. He was dressed as a clown that night, and I was a little disappointed in his outfit from the night before, because I wanted him to more embrace the aesthetic of a haunted Halloween vibe, and I think he really did that on night two. I also witnessed Harry announce Harryween when I saw him perform at the 'Today' Show in February 2020. The anticipation of waiting two years for it to actually happen, and then being in the seventh row feeling the emotions that built up the excitement of this night for two years was insane. It was everything I wanted it to be and I'm thankful for him always."
The final "Love on Tour" show of the U.S. leg was originally scheduled for Little Rock, Arkansas, but Styles announced on Oct. 29 the addition of a show in Long Island for Nov. 28, making it the official last show. The show is the grand opening of the new UBS Arena and fans of course pounced on tickets.
Fans flew in from all over the world for this show, and waited outside the new arena for days before, enduring 30-degree weather and even snow. They certainly had their reasons; this 'Love on Tour' show was the one to attend. Styles brought more joy and energy to the stage than ever before, and certainly made the most of his final show.
Before performing the emotional track "Fine Line," Styles thanked the crowd for an incredible tour. He reflected, "Things like this don't happen to people like me very often, and I know better than anyone that I don't get to do this if you guys don't come. So whether you've been supporting me for one year, two years, five years or eleven years, thank you."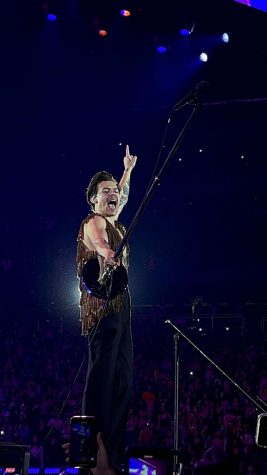 He continued, "After tonight, we're going to go away for a little bit, and we'll work on some stuff and we'll come back and see you very soon." Likely hinting at new music, this statement caused the crowd to explode with screams.
Styles typically ends his show with an intense performance of the track "Kiwi" from his first album. He was clearly reluctant to end the show, which resulted in him performing the song three times in a row! Almost ten straight minutes of "Kiwi" later, Styles finally began blowing the crowd kisses and giving his band a group hug before leaving the stage for the last time.
University senior Helena Rhodes shared her experience attending the Long Island show: "Getting tickets to the final show was a journey in itself, let alone camping in the snow for six hours for pit wristbands. I am so grateful to Harry, his band, the crew and all of his fans for making this experience possible. Out of the three New York shows I was lucky enough to attend this tour, Long Island was by far my favorite. He pulled out all the stops. The emotion in the arena was palpable and tears were shed. When Harry and his band did their bows at the end, you could feel that you were a part of something so special. My heart was so full and my body was sore from dancing all night. It really was an incredible final show."
While this may be the end of Styles' tour for now, he definitely has some projects in the making. He recently revealed a new collaboration with the beauty brand Pleasing, releasing a line of nail polishes. Dazed magazine published a story interviewing Styles about the collaboration, his tour and his relationship with fashion and made the cover of this issue of Dazed, with an eccentric photoshoot accompanying the article.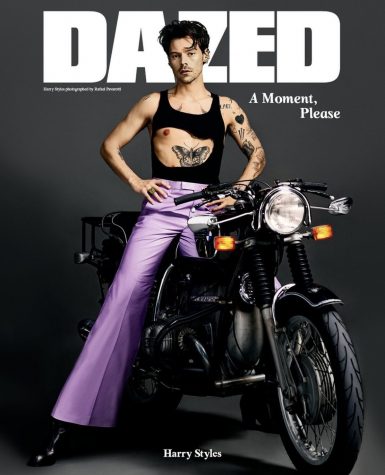 As Styles implied at the end of the Long Island show, he will likely be releasing new music soon. His third album is rumored to be released in early 2022. He will also likely continue touring in the UK and Europe next year, with the official announcement of tour dates still pending.
During his six shows in NYC as well as the rest of the American leg of the tour, Styles has spread love and joy to his fans after they went so long without being able to attend concerts. It was clear how much Styles missed being on stage and how happy he was to finally be back with his fans. Styles has made this a memorable tour, and his fans are excited to see what is in store for him in 2022!