Fashion pioneer Virgil Abloh dies at 41
On Nov. 28, social media was taken by storm by every pop-culture corporation, celebrity and consumer coping with the loss of fashion pioneer and creative genius, Virgil Abloh. Since 2019, Abloh had been privately battling a rare form of cancer called cardiac angiosarcoma and died at the age of 41. Abloh was much more than a husband, father, brother and beloved friend. His professional endeavors as a designer, in every sense of the word, produced disparate works that pushed the breaking point of cultural and racial intersectionality through the industries of music, fashion, architecture and more. His legacy and influence continues to motivate young artists across the globe, defining the epitome of limitless passion and possibility.
To honor his memory, The Pace Press takes their readers through a conducive timeline of Abloh's life, starting out as an ambitious DJ, to becoming the most influential Chief Executive Officer and creative director for two of the world's largest luxury fashion houses.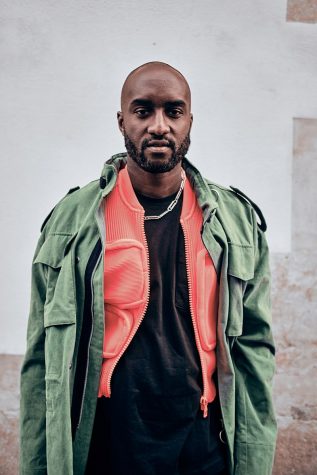 Virgil Abloh is Born
Ghanian immigrants blessed the world with Virgil Abloh on Sept. 30, 1980, in Rockford, Illinois. It was here that little Abloh gained an appreciation for skateboarding and all of the culture and style that went with it, sparking his initial interest in the fashion realm. 
In an interview with Teen Vogue, Abloh said, "all the skateboarding brands that I was into had graphic t-shirts. In the '90s, there were different styles that went along with different influences in skateboarding, whether that be hip-hop or rock and roll or grunge."
In the years to come, his forward-thinking charisma would shine through his creative direction as the Creator and CEO of "OFF-WHITE," and Creative Director for Louis Vuitton. 
A Man of Many Talents
In high school, Abloh began his first creative pursuit as a DJ. Early sources of his musical inspiration are rooted in his love for A-Track, Roc Raida, Invisibl Skratch Piklz and more. 
Once his DJing career took off, Abloh performed at a wide range of music festivals, fashion parties and rap gigs. He DJed throughout his career from small-scale club nights to music festivals, his last performances being at III Points Festival in Miami and at the famous dance party Circoloco in NYC this October. 
In an interview with The Guardian in 2016, he shared that DJing provided him with continuous peace of mind. "When the phone is off, I play my favorite songs really loud for myself, and I'm not talking to anyone. I'm not managing anything. It's just like a time when I can listen to music… I'll be DJing after I'm done designing or doing anything else," he said. 
Being an active member of the music community, Abloh designed and directed some of the most iconic hip-hop album covers of the 2010s, including Kanye West's "My Beautiful Dark Twisted Fantasy" and "Yeezus." 
Many figures in the music industry posted emotional tributes for the designer to their socials, like Frank Ocean, who commended him for inspiring his late brother Ryan and for aiding him in starting his luxury jewelry brand, Homer.
Ocean wrote in an Instagram story: "When I played you demos of shit I was working on or showed you Homer way before it was ready you put the battery in my back. When my brother passed I never said anything because it was way too much but he loved you and really looked up to you…My family was proud of you like you were our family. I know grief is love that you don't get to express so this is an attempt at expressing it."
OFF-WHITE, Louis Vuitton and Collaborations
Abloh is best known for being the founder of the Milan fashion label OFF-WHITE, which he launched in 2012. OFF-WHITE is widely praised for its seemingly ironic and industrial perspective on fashion, similar to the high-level streetwear seen in the Gvasalia era of Balenciaga. The industrial aesthetic, of which OFF-WHITE is famously known for, can be seen in popular products like the well-recognized iteration of their yellow and black polyamide belt, or their Converse x Chuck 70 sneaker with a body made of translucent rubber. OFF-WHITE'S signature element includes the name of the product and descriptors in quotes on most of their items and collaborations. 
Abloh's crown jewels lay in the creation of his streetwear sneaker collection which he brought to Nike in an earth shattering collaboration. The OFF-WHITE signature regenerated Nike's most iconic sneakers and reached unforeseen heights with new silhouettes. On Sept. 9, 2017, sneakerheads were shaken to the core when Nike and OFF-WHITE dropped "The Ten" collection, showcasing sneakers that had grown dull over the years, such as the Air Jordan 1, Air Presto, Air Max and Blazer Mids, among others. The release had a special spotlight for Nike's newest silhouette at the time, the Air Vapormax. 
Initially, the Nike x OFF-WHITE Air Jordan 1's retailed for $162.99 and is now the most sought-after and exuberantly priced shoe, worth thousands and possessing status and validity to any person who walks in them. "The Ten" is a collection of creme-dé-la-creme footwear with millions of feet repping the holy grail of streetwear. 
In 2018, Abloh was brought on board to become the creative director of menswear at Louis Vuitton, being the first black designer in the house's 167-year history to receive this title. Abloh further pushed his commercialized aesthetic at Louis Vuitton with items like iridescent monogrammed tote bags, stiff padded vests and metallic suits. Some other pieces that Abloh popularized in menswear included bedazzled harness/bib tops and pleated skirts, seen on celebrities like Timothée Chalamet and Kid Cudi.
Abloh revolutionized Louis Vuitton by bringing an influx of black musicians onto his runways and campaigns, including rappers 21 Savage, Playboi Carti and experimental artist Yves Tumor.
Virgil's final Louis Vuitton runway-turned-tribute occurred in Miami on Dec. 1, showcasing his last Spring/Summer 2022 collection as the house's Creative Director for menswear. Titled, "Virgil Was Here," many celebrities and friends were in attendance including Kanye West and Bella Hadid, the latter of whom has been grieving Abloh's death since the initial announcement.
Throughout his career, Abloh had received plenty of criticism for his vision in fashion and art, often perceived as laziness and described as extremely basic. For instance, he sold seemingly futile products, such as a reusable coffee cup featuring the LV monogram and "LOUIS" written haphazardly along the top. Differences aside, Abloh pushed the boundaries of what the public views as desirable and luxurious, what we consider high fashion. Similar to pop artist Andy Warhol, he challenged the notion of what can be considered high art and blended consumerism into his work and fashion, finding the attractiveness in the ordinary.
Abloh's Architectural Aroma
With a master's degree in architecture from the Illinois Institute of Technology, Abloh collaborated with Chrome Hearts founder, Richard Stark, in a jaw dropping furniture piece unveiled on Jan. 10, 2019. This handmade ebony wooden bench appears to be snapped in half, portraying a poetic ambiance, manufactured in a family-owned factory that took five years to complete. Yes, years. Abloh and Stark initially sprinkled bread crumbs leading up to the final reveal with a t-shirt and hoodie release just to "pass the time," as Abloh noted on his Instagram the day of the drop.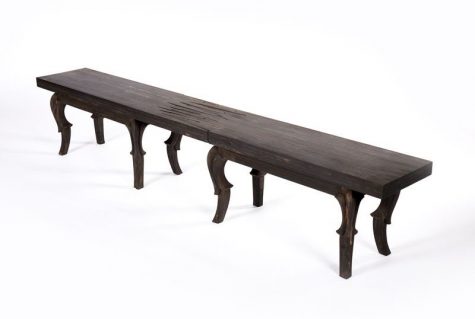 Architectural Digest conducted an interview with the two, giving readers a full breakdown of the masterpiece. In the interview, Abloh said, "The ebony wood, the way of making it in Hollywood, California, with a team that was generational. I wanted to bring a personality to it, but really let the craftsmanship sing. Figuratively it looks like it's been cracked over a leg, but it weighs a ton and it's very difficult to make. In my mind, it's such a new style of furniture. It's an art piece in a way. It speaks volumes. It's split. It comes together like a puzzle piece. It can dictate a new sort of attitude that can live around it."
Later that year on Nov. 1, 2019, Abloh and IKEA collaborated on a limited edition, first come first served collection titled Markerad. All 15 items in the series, including bedding, furniture, rugs and a clock, featured Abloh's iconic quotation marks punctuated by classic minimalist designs and high-fashion spunk for young adults and college students to bring into their first homes away from home. 
In Wembley, London, IKEA updated their store logo by adding quotation marks around "IKEA" for the week of the collection's availability to get shoppers hyped for the entirety of Abloh's creations. 
Abloh's last exhibit spanned from July 3 to Sept. 26, 2021, capturing his love for intersectional creativity in music, design, art and architecture titled, "Figure of Speech." His first museum exhibition was organized by the Museum of Contemporary Art Chicago with Rem Koolhaas's eminent architecture firm OMA*AMO, setting the stage with an immersive atmosphere for visitors. According to the Institute of Contemporary Art's website, the exhibition highlighted Abloh's defining career moments with "signature clothing collections, video documentation of iconic fashion shows, distinctive furniture and graphic design work, and collaborative projects with contemporary artists." 
Virgil Abloh "POST-MODERN" Scholarship Fund
In July 2020, Abloh announced an opportunity for the next generation of Black, African-American and African descent youths to become the next fashion industry leaders through a scholarship fund titled, "POST-MODERN." Sponsored by the Fashion Scholarship Fund (FSF), Abloh raised $1 million to pursue his mission in fostering equity and inclusion within the fashion industry, providing academically promising students vital career support, services and mentorship. 
To date, 20 recipients of the "POST-MODERN" Scholarship have been awarded $7,500 towards their college education, many of whom have gone on to work in design, marketing and merchandising at luxury fashion houses including: Brandon Maxwell, Estée Lauder, Louis Vuitton, Neiman Marcus, Tommy Hilfiger and Rimowa. 
Awarded scholars were mentored by creative and marketing leaders at companies including Baccarat, Bandier, Milk Makeup, New Guards Group, Nike, OFF-WHITE and more. 
The next class of Scholarship award winners will be announced in early 2022. To learn more about Virgil Abloh's "POST-MODERN" Scholarship Fund, click here. 
Virgil Abloh once described the OFF-WHITE label as "the grey area between black and white" and in his short decade in the world of fashion, music, art and architecture, Abloh has indeed defined his work beyond the binaries of the high and low brow. His artistry will be gravely missed, but his legacy will continue to live on through millions of fashion consumers across the globe.