All men convicted in Ahmaud Arbery's murder, a small step in the right direction
On Nov. 24, Travis McMichael, 35; his father, Gregory McMichael, 65; and their neighbor William "Roddie" Bryan Jr., 52, all white, were found guilty in the murder of Ahmaud Arbery, a black 25-year-old man.
On Feb. 23, 2020, Arbery was jogging in the Satilla Shores neighborhood in Brunswick, Georgia when his fellow neighbors, the McMichaels, caught sight of him. The men pursued Arbery in a pickup truck with guns in hand, while their other neighbor, Bryan, followed in another. Bryan recorded the pursuit on his cellphone; key evidence that would later be used against them in court.
All three men faced the same nine counts of indictment, including one count of malice murder, four counts of felony murder, two counts of aggravated assault, one count of false imprisonment and one count of criminal attempt to commit false imprisonment. The men are to stand trial again in Feb. 2022, facing separate federal charges including hate crimes and attempted kidnapping. The men pleaded not guilty to the nine charges, claiming they attempted a citizen's arrest and Travis McMichael fired the weapon in self-defense.
Travis McMichael, who shot Mr. Arbery three times at close range with a 12-gauge shotgun, was found guilty on all nine counts with the possibility of life in prison without parole.
His father, Gregory McMichael drove the vehicle for him and his son and was found guilty on eight charges, excluding malice murder. He too is facing the possibility of life in prison without parole.
Their neighbor Mr. Bryan, who followed in a truck behind them and filmed the encounter, was found guilty on six out of the nine charges including three counts of felony murder, one count of aggravated assault, one count of false imprisonment and one count of criminal attempt to commit false imprisonment.
The New York Times published an investigative video displaying a culmination of security footage, cell phone video, and 9-1-1 calls and logs capturing the final moments of Mr. Arbery's life.
At 1:04 p.m. on Feb. 23 2020, a security camera on 219 Satilla Drive shows Ahmaud Arbery strolling on Satilla Drive, less than two miles from his home. He stops on the front lawn of 220 Satilla Dr., a house being built across the street, and wanders in. Security footage inside the home has captured several instances of different trespassers roaming in and around the open construction site before Feb. 23. The owner routinely alerted police and reported nothing was stolen or damaged inside the property.
At 1:07 p.m., a neighbor outside calls 9-1-1 on Jones Road, the street that horizontally intersects into Satilla Drive.
"There's a guy in the house right now. It's a house under construction." He later tells the dispatcher that he resembles a regular trespasser in the area. "He's been caught on the camera a bunch before at night. It's kind of an ongoing thing out here. Black guy, white t-shirt." 
At 1:08 p.m., four minutes after Arbery enters the house, Arbery walks out and proceeds to run down the road passing Travis McMichael's home at 230 Satilla Dr. At 1:10 p.m., the upper corner of the security footage at 219 Satilla Dr. shows the McMichaels grabbing their guns, jumping into a white pick-up truck and leaving the house in pursuit of Mr. Arbery.
From his home, Mr. Bryan sees Arbery running away from McMichaels' vehicle and follows in his own. At 1:14 p.m. Bryan begins to film the interaction between the McMichaels and Arbery. In the video, Travis McMichael is seen carrying the 12-gauge shotgun while in a physical encounter with Arbery. His father stands in the truck bed on the phone with 9-1-1, armed with a .357 Magnum handgun.
The police report statement is as follows: "McMichael stated they saw the unidentified male and shouted 'stop, stop, we want to talk to you.' McMichael stated they pulled up beside the male and shouted "stop" again, at which time Travis exited the truck with the shotgun. McMichael stated the unidentified male began to violently attack Travis and the two men then started fighting over the shotgun at which point Travis fired a shot and then a second later there was a second shot. McMichael stated the male fell face down on the pavement with his hand under his body. McMichael stated he rolled the man over to see if the male had a weapon."
The video shows Travis McMichael lunging toward Arbery, signaling the first shot which hit Arbery in the chest, injuring his right lung, ribs and sternum. Arbery proceeds to wrestle with and punch McMichael to remove the weapon from his possession. Out of frame, a second shot is heard with the shotgun smoke in sight. Now in view, Arbery throws another punch at McMichael at which point the third and final shot is fired, hitting Arbery in his left upper chest. Arbery was unarmed throughout the interaction's entirety.
Police arrived within seconds after the shooting in which officers took Gregory McMichael's testimony and relinquished the two men. Ten weeks after the initial crime was committed, Bryan's video was leaked to WGIG, a local radio station in Brunswick, Georgia that claimed the footage came from an anonymous source.
Scott Ryfun, who oversees the station's programming, later confirmed and revealed the video came from Alan Tucker, a criminal defense lawyer who had informally consulted the suspects. 
Arrests were made days after the video emerged as local residents and lawmakers protested in public outrage to draw national attention to a case that had been overshadowed by the coronavirus pandemic. Former President Donald Trump called the footage "very, very disturbing," while President Joseph R. Biden Jr. added Arbery was essentially "lynched before our very eyes."
Georgia, unlike many states, does not classify murder in different degrees. Instead, the state has malice or felony murder, neither of which requires prosecutors to prove intent to kill.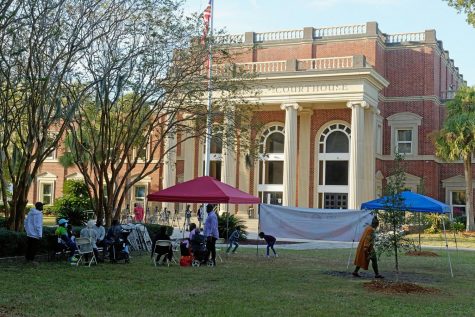 Malice murder can be the equivalent of first-degree murder in other states. Georgia defines malice murder as "a person commits the offense of murder when he unlawfully and with malice aforethought, either express or implied, causes the death of another human being."
In comparison, felony murder in Georgia is when a person does not have the intent to kill but intentionally commits a felony and a person dies as a result. According to APNews, "The person must be convicted of the underlying felony to be found guilty of felony murder."
Prosecutors explained malice murder charges in this case due to the three men demonstrating "malice aforethought" when they illegally chased Mr. Arbery. However, Mr. Bryan and Gregory McMichael were exempt from this charge because they did not fire the weapon that killed Arbery. However, prosecutors said the three men had intent to commit four felonies—two counts of aggravated assault, one count of false imprisonment and one count of criminal attempt to commit false imprisonment—in which Mr. Arbery, unfortunately, died as a result.
May 8, 2020, marked Arbery's 26th birthday and in commemoration, supporters gathered in a 2.23 mile run on this day, documenting their solidarity on social media using the hashtag, #IRunWithMaud. The conviction of the three men is a monumental stepping stone towards the fight for a fair and unbiased due process, bringing appropriate accountability for crimes driven by racial violence. The Pace Press is heavy-hearted, sending condolences to Ahmaud's family and friends who continue to grieve for their loved one.