Local bookstores perfect for holiday shopping
Going to local bookstores is always very much appreciated, rather than supporting large corporations such as Amazon and Barnes & Noble. Buying even one item from an independent bookstore could make a vast difference in their business, and The Pace Press has compiled a list of local bookshops to visit during the holiday season. 
Corner Bookstore
Clicking the skinny gold doorknob open into the Corner Bookstore on Madison Avenue is like walking into a tiny vintage home. The vintage cash register at the back of the store enhances this theme. The store has a variety of different genres, with trending books tending to be in the middle of the store, and they're open Monday through Saturday from 10 a.m. to 6 p.m., and on Sunday from 11 a.m. to 5 p.m.
Quimby's Bookstore NYC
If you want to go to another tiny bookstore, Quimby's Bookstore NYC is a great pick. It's located on Metropolitan Ave in Brooklyn, and they are open from 11:00 a.m. to 8 p.m. every day, and close at 7 p.m. on Sundays. What stands out in Quimby's is their eclectic décor; a funky rug on the vintage wood is the centerpiece. The store specializes in zines and even had one discussing police brutality in Seattle that was created through a black and white comic motif. They also have zines focused on comedy, art, Marxism and many other themes. You will also get a Quimby's bookmark before you leave so you will never forget the store. If you like kooky and fun stores, this is the store for you. 
East Village Books
A slightly larger store, East Village Books can be found on St. Marks Place and is like walking into an underground chamber full of imagination. The wooden narrow path makes this bookstore feel like a rustic tunnel. They are open every day from 1 p.m. to 9 p.m. and they house a variety of different genres. This store accepts used books, so before you leave, pick up a book in your home that doesn't suit you anymore and sell it to them.
The Mysterious Bookshop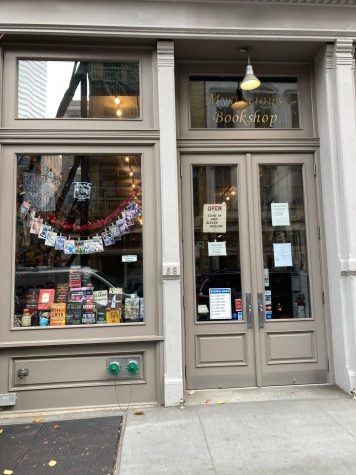 If you're into the mystery genre, The Mysterious Bookshop on Warren St. is the spot for you. Like the store's name suggests, their shop mainly consists of mystery literature. They are open from 11:00 a.m. to 7 p.m. every day and are closed on Sundays. The interior is like walking onto a movie set; a wide room that looks vintage-like, you can almost see the books flying off the shelves in dramatic fashion. 
McNally Jackson Books 
If you want a bigger selection that still feels local, The Pace Press recommends going to McNally Jackson Books in Seaport. Convenient for students, they are open every day from 11:30 a.m. to 7 p.m. It has many different genres and there are two floors full of books. To make it easier, they gave sections to each genre, so don't forget to check out the coffee bar on the first floor or the cozy lounge area on the second. You'll definitely run into many book lovers here in this little community by the water.