Saturday night sugar
On Nov. 16 at 11:30 p.m., "Saturday Night Live" began its regularly scheduled programming. What made this episode special, however, was its feature of musician Harry Styles. Styles took on double duty for this episode, both hosting and performing his two latest songs. With the upcoming release of his brand-new album "Fine Line" and the announcement of his tour "Love on Tour," this was the perfect way to get fans everywhere excited.
After the hilarious "Impeachment Trial" skit, the episode began with Styles greeting his audience and talking about how excited he was to be on "SNL." Through some well-thought-out jokes, he addressed his solo career and the elephant in the room, saying "I'm not in a boyband anymore, I'm in a manband." Styles tossed in a few other throwbacks to his 1D days, all while "playing" the piano on the stage.
The episode progressed with several comedic skits, all showing Styles' surprisingly great acting. From "Airline Pilots" to "Sara Lee," the audience could tell he was having a lot of fun. The episode closed out with a bang with "Funeral DJs," showcasing Styles and cast member Chris Redd playing DJs hired to hype everyone up at a funeral, but not in the most appropriate way.
"My favorite skit had to be the cut for time sketch with Kyle Mooney, 'Jason,' mainly because of Kyle, but Harry was great in it," said University sophomore Lauren Allvord.
While this was a successful episode that garnered plenty of views, those who tried to get in to see the show live had quite the experience. University sophomore Jessica Paredes waited outside of 30 Rock from Wednesday at noon until Saturday morning. "The campout experience itself was so surreal. I've never felt so much a part of something like that," Paredes said. "This was in Times Square, so every person that walked by either gave us weird looks or asked what we were waiting in line for. It was nerve-wracking; we felt like animals in a cage when we were trapped behind the barricade. We wanted to be excited, but knowing that we were not guaranteed to get in until Saturday night when we lined up made it difficult."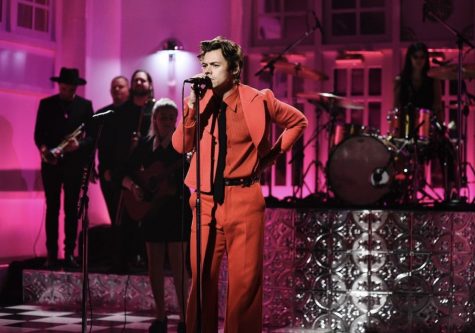 As for the show itself, Paredes was able to see the actual live show as opposed to the dress rehearsal, which many people in line for "SNL" often end up seeing instead. "It was so cool to see him do comedy, he got so into it!" Paredes said about the show. "His performances were obviously amazing as well–the 'Lights Up' acoustic version he did was very unexpected, but it was a cool direction to take."
Paredes continued, "Being the first group of people to get to hear 'Watermelon Sugar' was really cool, and I'm so excited to hear the rest of the album. The experience as a whole felt like a family reunion. Being surrounded by people that love Harry and One Direction as much as I do, and being brought back to the feelings of loving and supporting them from the time I was 12 was amazing. I promise I'm not crazy for waiting on the streets for three days, I'm just a very dedicated fan!"
After almost two years without new music from Styles, "SNL" was just the kickoff for his expected rise back up to the top. Fans of Styles can look for his new album "Fine Line" coming out on Dec. 13.