The Profashional side of things: "Fashion Unfolded" 2018
On Dec. 7th, Pace Profashionals Club hosted "Fashion Unfolded: The Age of Influence" in Midtown. This intimate, panel-style event was designed to appeal to Pace students who have an interest in fashion careers and want to know the best ways to succeed in the industry. Five panelists all working in fields of fashion shared their experiences with Profashionals President Brennan Bodin through a casual but detailed Q&A. The panelists were influencers Lindsi Lane, Alyssa Lenore, and Joey Zauzig, manager Amy Hamil of Influencer Talent and Next Management, and journalist Jaclyn Bloomfield of Editorialist Magazine. 
This event is the inside scoop on how to take a passion for fashion and turn it into your future. University freshman and Profashionals Club member Helena Rhodes said, "There are a lot of professionals here speaking about their experiences in these different fashion fields, and I think this will give me and many others ideas of how to get to where I want to be in a fashion career."
The Q&A started with questions about a day in the life of these fashion icons. There are several differences between being an influencer and a manager in the industry, but the panelists all mentioned that ad campaigns, social media partnerships, editing and photoshoots are a large part of what they all do. On top of that, working in fashion is an ever-changing experience, parallel to ever-changing trends. Both Lane and Zauzig emphasized the importance of risk-taking, stepping out of your comfort zone and creating a unique brand for yourself in order to succeed, while still staying true to yourself and the direction you want to go in. 
The biggest question this event had for these panelists: What exactly does it mean to be an influencer in the fashion industry? We are currently in such a prevalent digital age, and different fields of fashion rely on this very heavily. The influencers of the panel discussed the tactics they have used on social media (Instagram in particular) to build a brand for themselves, such as hashtags, "swipe up to shop" links, and posting stories with geotags and locations. These methods help immensely with Instagram analytics and popularity. The introduction of "stories" on Instagram was described by all three of our influencers as a "game-changer." They discussed the fact that they are able to keep a consistent theme on their Instagram feed, but then show a bit more of their personalities and casual day-to-day lives on their stories, which is a great way to stay active on the platform without as much pressure to post a photo every day. Instagram also helps influencers to better reach their followers in ways such as comments and direct messages. The current generation of college students is generally known for being quite savvy with social media, and those who want to work in fashion and have these skills will be rewarded for implementing them into their work. 
"With enough work, you can quickly become well-known through social media," said University freshman Nikki Nguyen, who attended the event. "Social media is also a much more cost efficient way to jumpstart a fashion career compared to getting an agent, for example, which is an advantage for college students in particular. You can go from simply posting your outfits every day to becoming a hugely popular and admired person in the fashion world."
Another aspect of social media discussed by the influencers was the importance of using your platform to shine light on topics outside of fashion. Alyssa Lenore gave the example of times she used to post photos of her coffee on Instagram, and someone messaged her with the suggestion of not using plastic straws because of their harm to the environment. Lenore then began to post pictures of her use of reusable straws and soon saw many of her followers doing the same thing, and she realized she could impact people in ways aside from fashion. Joey Zauzig also discussed his strong belief in influencers using their platforms to empower people. He explained that he answers every Instagram message he receives in order to better connect with his followers, and the fact that he has even been able to uplift and inspire many of them who may have been going through a hard time in their lives. Both influencers said they did not know how much of an impact they could have on their followers in different ways until they had these experiences.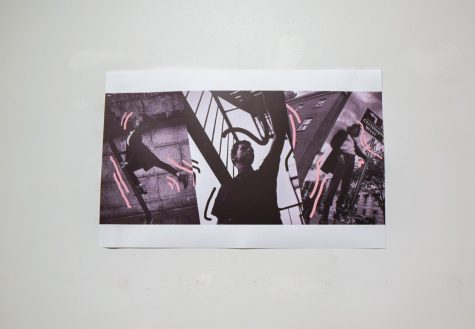 These influencers have truly had their lives changed through their careers. Their sharp social media skills and keen eye for fashion have certainly been rewarding, flooding them all with opportunities. Lane mentioned that she has done work for television as well as social media, and now runs her own blog. Zauzig has his own clothing line coming out soon, which he is incredibly excited for. When asked after the event if he had advice for college students who may also want to create a line or collection to sell, Zauzig said, "I would say find a really good partner who has the same vision as you, stay true to your brand, and don't let anyone tell you you can't do it. Don't be afraid to start small and take the first step, even if it's just giving out little samples at a random store in Midtown."
Bodin then moved to questions about the editorial and managerial side of a fashion career, which both Bloomfield and Hamil explained is not very different from an influencer's job; the two often go hand in hand. They spoke about the importance of bridging the gap between brands and people, but also the life skills that come with being a manager in fashion. It is important to know how to manage different personalities, both in an office and out in the world. Having good people skills is crucial, and can be as simple as knowing how to professionally address an email. While this is true with any job, staying organized, making lists and prioritizing the work you need to get done can tremendously enhance your success. 
To close out the night, Bodin asked all five panelists tips for college students who may want to apply to fashion internships in the near future. All of them had been interns at one point in their lives, and had a lot to say on the matter in terms of what key traits employers look for in an intern. They mentioned the importance of always staying ten steps ahead, knowing names and being friendly with people in an office setting, having a good attitude and always saying yes, and most importantly, having a willingness, a passion, and a drive to do what you love. The panelists also gave final pieces of advice for starting out in the fashion industry, the most important being to stay true to yourself and remember why you love to do what you do whenever times get tough. Lane gave the mantra she follows as well, putting it very simply, "Accept your reality, and get creative."
The attendees then had some time to take pictures, network with the panelists and other people around them, and reflect on the successful night. When asked what made him want to organize "Fashion Unfolded," Bodin said, "We have two events each year: a smaller, more intimate one, and a bigger one in the spring. Our main goal is to help the student body through these events. Fashion has so many parts to it, and they all affect so many different people, so we chose to pick people from more of the business side of fashion for this particular event." 
Students with interests in fashion, marketing, and media will definitely benefit from this event, and now have great ideas of where they can start to make it in the "profashional" world!