Iconic fashion designer Thierry Mugler passes away
French fashion designer Manfred Thierry Mugler passed away on Jan. 23, 2022, at 74 years old. A collective sadness swept the fashion and art lovers of the world at this news because of the legacy Mugler created throughout his life. A true visionary, Mugler blurred the lines between fashion and art through his extravagant designs.
From a young age, Mugler's interests in fashion design and art were very apparent. Mugler grew up in Strasbourg, France, and at only 14 years old, he began to study interior design at Strasbourg School of Decorative Art. In 1966, he moved to Paris to design for a Parisian boutique and while also working for a few other designers as a photographer. Mugler showed his first collection in 1973, inspired by '50s Hollywood glamor.
Mugler's developed aesthetic was largely inspired by fetishism, eroticism and futurism. Further into his career, he experimented with grotesque and robotic aspects of futurism, drawing many to the Mugler brand. He became known for combining business wear with eccentricism, drawing eyes to his brand early on in his career.
His ideal model was a tall, confident femme fatale who radiated sex appeal. A few of his most well-known models included Naomi Campbell, Linda Evangelista and Cindy Crawford. At the start of his career, he only designed womenswear but expanded to menswear in 1978.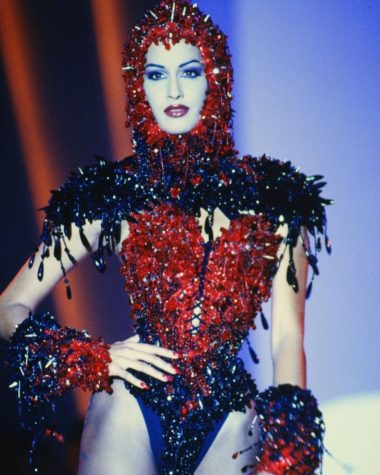 Mugler was also no stranger to a lengthy, theatrical runway show. Fashion shows tend to be fairly short, especially today, and Mugler's shows ran from 30 minutes to an hour. Just as he had a love for extravagance, he had a love of performance as well. His Fall 1995 haute couture show is universally agreed upon as his most memorable show, which was also the 20th anniversary of the brand. With a huge stage, 300 looks to show, and a surprise performance from singer James Brown, this became a monumental moment in fashion history.
Although Mugler retired from fashion design in 2002, those who took over preserved the Mugler name and stayed true to the brand, gaining more popularity over the years. Several celebrities have recently attended events wearing memorable Mugler garments. At the 2019 Met Gala, "Camp: Notes on Fashion," Kim Kardashian wore a nude, skin-tight Mugler dress dripping in beads to give the illusion of water droplets. Musician Cardi B wore Autumn/Winter 1995-1996 couture to the 2019 Grammys, a dress resembling an open clam. Under creative director Casey Cadwallader, actresses Hunter Schafer and Dominique Jackson modeled Mugler's Spring/Summer 21 collection. Mugler's brand is consistently becoming more modern, but always includes a unique touch reminiscent of its creator's visions.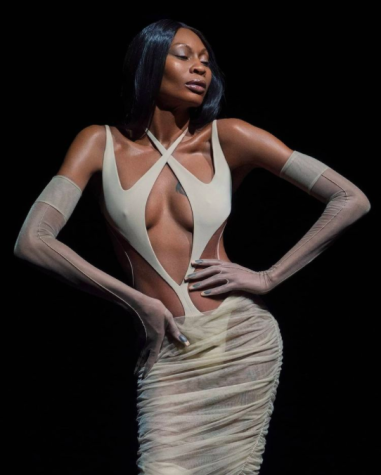 University senior and Arts and Entertainment Management major Donatella Cerra said, "I love that the Mugler brand is always highlighting trans models. Mugler himself was also a trans advocate, and we've seen this advocacy continue even after he retired. The recent show with Hunter Schafer and Dominique Jackson was incredible."
A few days after Mugler's passing, an In Memoriam was posted on his Instagram. A page with the opportunity to pay homage to Mugler was also linked to the account's biography with comments flooded with love for the legendary designer. With nothing but love for artistic direction and lavish garments, Thierry Mugler will always be a pillar of history in the ever-changing world of fashion.