Amir Locke fatally shot by Minneapolis Police Department executing no-knock search warrant
As the two-year anniversary of George Floyd's death approaches this May, the city of Minneapolis mourns another citizen taken at the hands of unwarranted police violence. Amir Locke, 22, was fatally shot on Feb. 2 when a SWAT team for the Minneapolis Police Department served a no-knock search warrant involving a homicide.
The police department released body-worn camera footage to YouTube that shows officers on the scene at 6:48 a.m., opening the apartment door with a key, entering, then shouting "Police! Search warrant!" Officers rushed into the living room where Mr. Locke was laying on a couch underneath a white blanket. An officer is seen kicking the back of the couch, ordering Locke to get on the ground. When Locke appeared from the blanket, a gun was seen in his hands at which point Officer Mark Hanneman fired at least three shots, killing the 22-year-old Black man. 
A spokesman for the St. Paul Police Department said both knock and no-knock search warrants were filed as part of a homicide investigation. According to The Wall St. Journal, the Minneapolis Police Department was asked by the St. Paul Police Department to carry out three of them at an apartment complex in downtown Minneapolis. 
Authorities stated that Locke's name was not on the warrant, however: "At this point, it is unclear if or how he is connected to St. Paul's investigation," said interim Minneapolis Police Chief, Amelia Huffman, at a press conference on Feb. 3. Jeff Storms, one of three lawyers representing the Locke family, stated that Locke was only staying there with his cousin, in which new court documents show that his 17-year-old cousin is who police were in pursuit of. 
The no-knock warrant allows police officials to storm a residence without making their presence known. The warrant is predominantly used when there is concern evidence will be destroyed or a belief that officers will be put in danger. As a result of Locke's death, Minneapolis Mayor Jacob Frey ordered a moratorium on no-knock warrants on Feb. 7 that went into effect on Feb. 11. 
During this time, the city will be reviewing and revising the department's policy with racial justice activist DeRay Mckesson, and criminal justice expert at Eastern Kentucky University, Dr. Pete Kraska. 
While no-knock warrants are temporarily prohibited, Mr. Frey had issued a policy in August 2020 requiring officers to announce their presence and purpose before entering, except within extreme circumstances such as hostage situations. Before the policy was initiated, the Minneapolis police department executed 139 no-knock warrants per year, and is on track to reach about the same in 2022 with 11 being conducted thus far. 
"This is about proactive policy-making and instilling accountability. This new, no-knock warrant policy will set shared expectations for our community and clear and objective standards within the department," Mr. Frey said in a press conference on Aug. 26, 2020.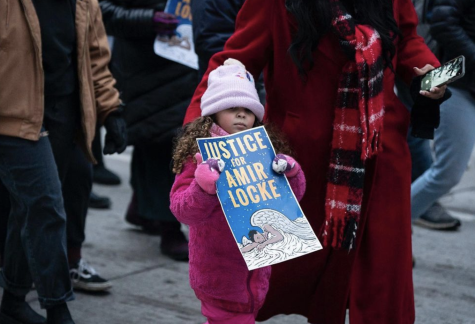 Now, the only way for Minneapolis police to execute a search warrant is by knocking, announcing their appearance and waiting an appropriate amount of time before entering. 
This is not the first time a no-knock warrant resulted in a tragic death, bringing extreme scrutiny to the nature of its procedure. Locke's incident shares remarkable similarities in the case of Breonna Taylor, a 26-year-old Black woman who was killed by police executing a no-knock search warrant regarding a drug case. No drugs were found in Ms. Taylor's home and it was later revealed that the warrant was flawed. 
Ben Crump, another attorney representing the Locke family said, "Like the case of Breonna Taylor, the tragic killing of Amir Locke shows a pattern of no-knock warrants having deadly consequences for Black Americans. This is another example of why we need to put an end to these kinds of search warrants so that one day, Black Americans will be able to sleep safely in their beds at night."
In honor of Locke, peaceful protestors marched the streets of Minneapolis on Feb. 5 shouting "say his name" while some held signs that read "Justice for Amir Locke and All Stolen Lives" and "Stop the War on Black America!" The protest is one of many in response to continuing tensions and national outcry echoing the lethal consequences of racial injustice and police brutality.