University students share perspectives on the first two weeks of the spring semester
Students ended the first semester of the 2021-2022 school year with more uncertainty about the ongoing COVID-19 pandemic. With the Omicron variant raging and positivity rates higher than they have been in months, University students did their final classes and exams online, going home unsure of what classes would look like in the spring. After a tumultuous break filled with precariousness, the University announced that classes would be held online via Zoom for the first two weeks, with in-person classes returning on Feb. 7. 
After a year and a half of online classes and a Fall 2021 semester of in-person classes, students were thrust back into the online world of Zoom, a platform that has become all too familiar. With classes' ever-changing modalities due to the unpredictable nature of COVID-19, students have understandably been under stress and overwhelmed with confusion. The Omicron variant of COVID-19 is incredibly contagious and spreads rapidly, with cases being higher than ever before in New York City. 21,027 positive cases of COVID-19 were reported in NYC on Dec. 17. This sudden explosion of cases led to the University delaying in-person classes in an effort to slow the spread of COVID-19. 
Online classes come with a range of benefits, but after nearly two years of unknowns in regards to the University's procedures, the back and forth has gotten tiring for many students. The Pace Press asked various students about their experience with transitioning from virtual classes to in-person classes within the first three weeks of the semester. 
After the University announced classes would be held on Zoom for the first two weeks of the semester, opinions were mixed. Some students were glad to have the first two weeks online to transition and adjust to being back on campus after the long winter break. Other students who thrive in an in-person setting found Zoom classes to be frustrating.
University senior Muirrin Mason said, "Having the first two weeks on Zoom made it difficult to get mentally prepared for the semester. I'm taking a mix of asynchronous and in-person classes, so I was looking forward to having opportunities to have class without the restrictions of Zoom. Many professors expressed the same excitement which was the motivation to put in effort the first two weeks."
A mix of modalities can certainly be difficult to keep track of. Many students have a mixture of in-person, web-assisted and asynchronous classes, which can be confusing and take time getting used to.
University senior Diego Ramirez said, "I honestly thought it was really nice starting on Zoom for this semester! It allowed for a smoother transition into school, especially as someone who works outside of school. There are certain classes that are effective online and some that work better in-person, and I like that now that we are able to do both."
Although online settings were preferred by some, the majority of University students reported they suffered greatly from burnout, a phenomenon that has only worsened over time.
University junior Leigh Bauer said, "Online classes, while I felt like they didn't really affect the specific classes I am in, were a challenge mainly because I hate staring at a screen all day, but also just being stuck in my room and not having that physical barrier between different aspects of my life that is leaving my room. The transition from online to in-person was surprisingly weirder than I thought."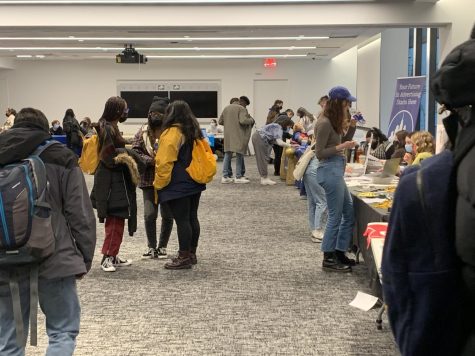 Bauer continued: "I guess I got used to just sitting in my room for class and not seeing anyone. Then walking to classes and being packed into elevators and halls was not something I totally prepared myself for! But after the first couple days I got more used to it again. I honestly forgot how crowded One Pace Plaza can get!" 
The University environment changed quickly, the campus being a ghost town for the first two weeks of classes, and then with a sudden influx in the third week, the hallways were crammed with bustling students. Unfortunately, the sudden shifts in learning and University experience seem to have become expected for students. 
University senior Dominique Johnson commented: "The classes went well the first two weeks on zoom, but I'm now used to taking my art classes on Zoom. Now since I'm a senior I feel like it's now or never to have time in the studio, and I think my work comes out better when I'm there because I have so many resources I don't have at home. I am kind of glad to be back, because my time here is almost over." 
The University COVID-19 alert level recently moved from orange to yellow, allowing for in-person gatherings to reach 75%, classes to meet in-person and the school can be arranged as if it were full capacity. Students are once again dealing with an unpredictable University experience very early into the semester. 
COVID-19 is constantly changing and has kept students, and the world, in wait for the next development. Each student has their own struggles and needs during this time and it is vital to keep the University community connected through a quickly shifting world. Despite burnout, different class settings and several other hardships, students have remained resilient for the past two years.