Neil Patrick Harris Hosts 67th Annual Tony Award Ceremony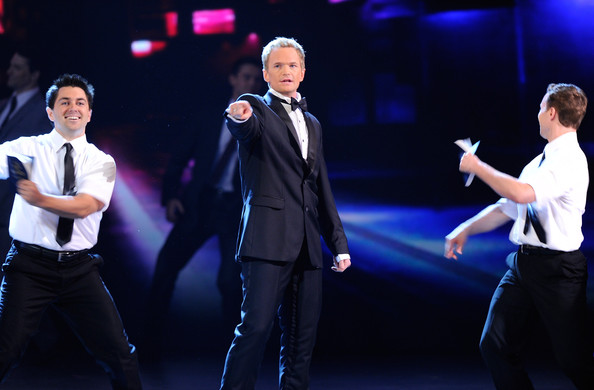 Neil Patrick Harris hosted the 67th Annual Tony Awards for the fourth time on June 9, 2013, at Radio City Music Hall in New York. This year's Tony Awards made history with women and African Americans winning big at the ceremony. In addition, with "Annie," "A Christmas story," and "Matilda," this Broadway season was full of children. But a performance by talented kids and honoring black actors is not the only reason why this year's Tony has been the talk of the town since Sunday.
The opening number is being labeled as the best intro any awards ceremony has ever seen. Neil Patrick Harris impressed more than ever and has become the subject of conversation of amazed audience members and TV viewers alike, who agree that this was his greatest show yet. Neil Harris "upped" the level on how any awards show should have its opening number. The opening number was so good, it even had notorious boxing champ Mike Tyson dancing.
But what would an award show be without a little scandal? Reports surfaced the following day accusing NPH of using the 'N-word' in song and dance onstage with mike Tyson. NPH replied tweeting "I would NEVER be so disrespectful" and claiming he said the word "bigger."
Despite the controversy, no one can deny that Neil Patrick Harris performed excellently throughout the show alone as well as along with the cast of "Once The Musical" who performed. Host Neil Patrick Harris also performed with Andrew Rannells in a comedic original song. All the while, NPH continued to make jokes about and refer back to the attendance of Mike Tyson at the awards, which humored audience members.
If it weren't already the Mike Tyson show, the 2013 Tony Awards might as well be called the Cyndi Lauper show. Lauper took home her first ever Tony after a long career as a singer and performer. The singer received her first Tony award for Best Original Score for "Kinky Boots," a musical about a shoemaker and his drag queen business partner. Lauper performed her hit song "True Colors" in memorial of those performers who the Broadway world sadly lost this season.
This was a huge night for Lauper as "Kinky Boots" came out as the big winner. This year's Tony showcased the great musical battle between "Matilda the Musical" and "Kinky Boots" for the biggest award of the evening- the best musical award. Other awards now belonging to "Kinky Boots" include: Best Orchestrations, Best Sound Design, and Best Choreography. Actor Billy Porter accepted the Tony Award for best performance by an actor in a leading role in a musical for his role in "Kinky Boots." "Kinky Boots" dominated the awards with a total of six awards, firmly establishing Lauper's name in the Broadway community.
Another memorable highlight of the 2013 Tony Awards was the beautiful acceptance speech from Cicely Tyson who accepted the Tony Award for best performance by an actress in a leading role in a play for "The Trip to Bountiful." Cicely Tyson's emotional acceptance speech stole the show. Tyson, age 79, was back on Broadway this season after a 30-year absence. "It's been 30 years since I stood on stage," Tyson said. "I really didn't think it would happen again in my lifetime and I was pretty comfortable with that, except that I had this burning desire to do just one more. One more great role, I said. I didn't want to be greedy. I just wanted one more, and it came to me with no effort on my part." Tyson thanked the Broadway community for wrapping up her life and performance career with loving arms.
The live award show did not get by without at least one stumble, however. The CBS Atlanta blunder instantly blew up social media. Just before the final category of the evening, Best Musical, was announced, CBS Atlanta began their 11 p.m. newscast, ignoring the broadcast of the 2013 Tony Awards finale towards the end of the Tony Awards just after 11 p.m. Ironically, Atlanta's own Tony Award-winning Alliance Theatre had birthed "Bring It On: The Musical," one of the 2013 nominees for Best Musical. WGCL claims they "encountered a few seconds of black and our local producers accepted that trigger as the end of the network broadcast and began our 11 p.m. newscast." The network feed of the Tony Awards was not over and WGCL did not air the final seven minutes of the broadcast. CBS Atlanta News replied to angry viewers who took to social media complaining "If this was the super bowl they wouldn't have done that!" by saying that CBS is a passionate supporter of the arts and that this error in no way reflected the opinion of WGCL-TV, CBS Atlanta News or its employees.
Many angry viewers were left clueless as to who took home the big wins for this season on Broadway. For those who unfortunately were not able to catch the finale of the 2013 Tony Awards, Tyson's eloquent acceptance speech was for Best Actress in a Play for the revival of "The Trip to Bountiful", "Pippin" won for Best Revival of a Musical, and Cyndi Lauper's "Kinky Boots" won the evening's Best Musical Tony.