University art gallery opens solo exhibition 'So Close'
The Pace University Art Gallery opened artist and professor Ceaphas Stubbs' exhibition "So Close" on Friday, Feb. 11. The exhibition explores the relationship between sculpture and photography and the meaning the final images hold.
Stubbs holds a Bachelor of Arts in Visual Arts from Rutgers University, as well as a Masters in Fine Arts from the University of Pennsylvania. He has done residencies at Skowhegan School of Painting & Sculpture, Jamaica Center for Arts and Learning, The Creative Capital Professional Development Program and Express Newark. Their work has been shown in numerous galleries and museums. "So Close," displays a combination of photography, sculpture and collage, and explores themes of intimacy, sexuality, loss, desire and pleasure.
On Thursday, Feb. 17, Stubbs held an artist talk on Zoom to give further insight on the pieces in this exhibit, his practice and process and discussed his inspirations. 
During the talk, Stubbs shares that he creates his pieces by forming sculptures of overlooked or abandoned materials, whether it be colorful, patterned swatches that belong to a larger garment, scenes clipped from photographs rooted in someone else's memories or limbs dismembered from sex acts depicted in pornographic magazines. They are then refigured, suspended, anchored or overlaid into parallel universes using string and wire affixed to a wooden armature. He often reconstructs these materials until his ideal sculpture comes together. Finally, he places his sculptures in front of a striking, colorful background and photographs them with strobe lighting. 
The photographic images exist as large-scale prints that toy with viewers' perception and orientation by eroding the distinction between background and foreground, gravity and scale.
"There's always something that's reconfigured, suspended, and anchored in the photography," Stubbs explained.
One piece on display Stubbs mentions is a standout for them is "…Who Really Controls the Strings…" from 2018. The piece displays two figures facing each other, with a dark shadow behind the figure in the middle. Stubbs explains that the narrative behind this piece involves the desire to fall in love with another person, but the presence of looming darkness in the back of one's mind can prevent them from this. The metaphorical shadow can represent the center figure's past experiences with love, or the air of caution that comes with falling for someone new. Stubbs notes that the presence of the shadow "…both anchors the composition and becomes something unsettling."
"Narratively, this is one of the pieces I'm really proud of, and something that has really helped push the trajectory of future works to come," Stubbs shared.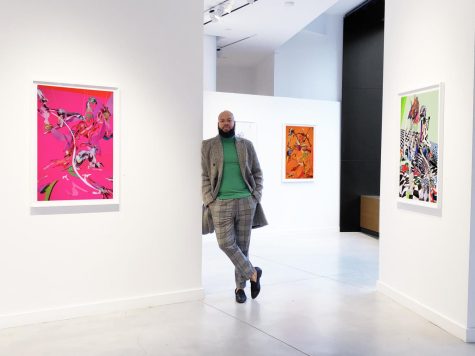 Stubbs's pieces can take anywhere from a few hours to a few months, and involves a lot of restructuring and rephotographing if they are unsatisfied before a final image is made. After this image is finalized, Stubbs does very minimal, if any, editing or post-production.
Also shown was a two-part animation video project titled "CAGED" from 2018. Stubbs explained that he was inspired to experiment with animation through drafts of his images, reminiscent of a flipbook. "CAGED" plays with sound and shows androgynous figures, described as "puppets," moving through space, merging and disappearing. 
They explained, "The theme of this project involved capturing contradicting extremes within human gesture through a queer Black lens: intimacy and brutality, beauty and vulgarity or yearning and dominance. The animation is a wet dream turned nightmare, in which an androgynous figure is objectified, pursued, and dominated by its assailant. Choreographed live-action puppets, ropes, latex and action painting, along with post-production rotoscoping are transmuted into a psychosexual web of body parts and bodily fluids.
He continued, "The audio solely consists of xylophones because the instrument evokes whimsical yet sinister, and rhythmic yet erratic and innocent yet primal qualities. The xylophone helps marry the variety analogue and digital processes to conjure a queer space that is simultaneously nostalgic and afro-futuristic, and, more importantly, heighten the violence that unfolds. The cinematic cuts and transitions, similar to the assailant's tongue, become another form of violence and carve up the prey's already fragmented body up even further."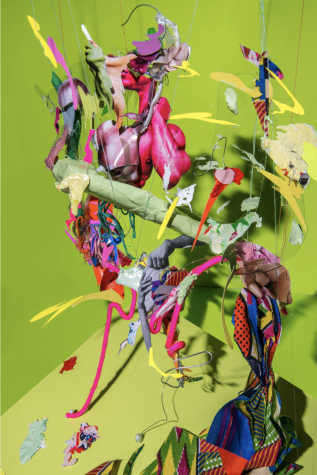 Within their work, Stubbs is infatuated with the relationship between photography and sculpture, and how the two can both complement and juxtapose each other in an image. He says, "With photography's relationship to sculpture, photographs of sculptures are representations of representations, and they are charged with this nuance of the photographer's choice as well as the cultural circumstances that they are created for. Photography has a way of enhancing a sculpture, and there's a lot of room for exploration that photography holds for sculpture."
Stubbs also held a workshop on Friday, Feb. 25 in 41 Park Row's sculpture studio. This workshop focused on photographing glassware and transparent objects, as well as combining and collaging these objects to later photograph with different studio lighting strategies. This process mirrors what Stubbs did to create their pieces in "So Close."
"So Close" is open to the public through Saturday, March 26. You can visit the exhibition (located in 41 Park Row through the Spruce Street entrance) on Tuesday, Wednesday, Friday and Saturday from 1 p.m. to 5 p.m., Thursday from 2 p.m. to 6 p.m. and by appointment. Be sure to follow Ceaphas Stubbs on Instagram to see more of his work!
*Words contributed by Ceaphas Stubbs