Citi Bike program show signs of success in first weeks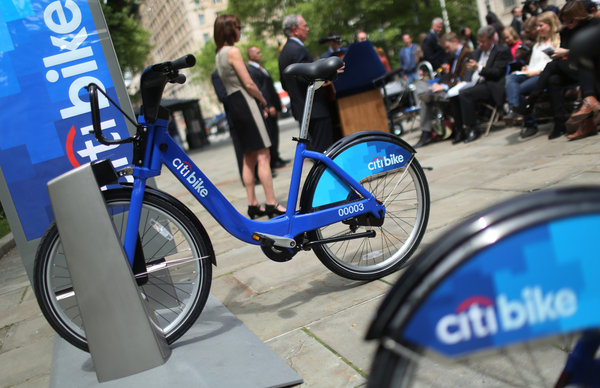 A promising new bike share program made its way to NYC on May 27. Now after just three weeks, Citi Bike has proved to be wildly successful amongst New Yorkers, with eye-catching clunky blue bikes speeding around the city daily.
The program requires registered members to pay $95 for a yearly electronic key, giving them access to ride between stations for as long as 45 minutes with no added charge. A weekly pass costs $25 and a daily pass runs for $9.95
Bike riders are making use of over 300 stations and 6,000 bikes. In general, riders have had few problems taking the bikes from the solar powered docking stations, but there have been concerns over re-docking the bikes, with individuals complaining that it takes several tries to place bikes securely back into their stations. Power outages at stations appear to be a large issue.
Additionally, the cloudy weather has taken a toll on bikers who need to access these solar powered stations. With some of the bikes not budging at all from stations, individuals have tried to combat the issue by taking the courteous initiative to turn bicycle seats the opposite way to ensure other users will not have the irritating experience of fighting with a dysfunctional station.
Other complaints include lack of helmets, and lack of bikes in certain Burroughs. Queens, the Bronx, Staten Island, most of Brooklyn and some areas of Manhattan are currently bikeless. Hurricane Sandy contributed significant damage to areas where bikes were to be placed, which offers some explanation of reduced expansion.
There has been one bike theft so far, while workers were unloading new bikes into a station on the Lower East Side. Bikes are sturdily locked into stations otherwise, making theft very difficult. Other noticeable issues inloving the bikeshare program include a father who casually rode a Citi Bike around the city with his young daughter in the front basket, which is not suitable to handle items weighing more than 17 pounds.
With 40,000 annual members to date, however, the program seems to be overcoming these initial glitches. Citi bike plans to follow through with adding up to 300 more stations and a total of 10,000 bikes.
Additionally, with G train service coming to a close at certain stops for construction purposes, the MTA is in talks with the Citi Bike program to add stations to combat the travel issues for commuters in a way other than shuttle buses. Construction will take place for 12 weekends in a row beginning in July and will necessitate the closure of the Greenpoint, 21st Street, and Court Square stations.
Many feel that this will lend a positive response to bikers around the city, including bike user James Gross, who has made it possible for employees of his company to use the bikes, covering annual fees.
"It's geared toward people who really care about things like understanding how networks work, and understanding how traffic patterns flow, and understanding how bikes can really change a city in a positive way," he says. "I just think these are the types of things smart people really are attracted by."
On June 16th the program set a daily ridership record of 25,119 making it the largest Bike Share program in North America.