Modern dating gone rotten: 'Fresh' film review
Content Warning: This review contains light spoilers from the movie and is not recommended for those who are not fans of blood and gore.
Released on Jan. 20, "Fresh" certainly gives a fresh take on dating in 2022, with horrifying plot points. The film was directed by Mimi Cave and stars "Normal People" actress Daisy Edgar-Jones and "Pam and Tommy" star Sebastian Stan. Available now to stream on Hulu, this movie keeps you on edge from start to finish.
We are introduced to Noa (Edgar-Jones), a young woman eager to meet a special someone, but completely fed up with online dating, shown in the first few minutes through a disastrous first date. Only a few days after reassurance from her best friend Mollie (Jonica T. Gibbs) that there is someone out there for her, Noa heads out to get groceries and bumps into Steve (Stan), a seemingly sweet, charming young guy with a fun-loving sense of humor.
The two quickly hit it off, find out a lot about each other, and share a few intimate moments. But, only a few days after meeting, Steve invites Noa to go away with her for the weekend to a house he owns in a town called Cottage Grove. Several red flags are obvious in this situation, but evidently not to Noa. The two had just met and are already going on a vacation in an area far from civilization, and Noa starts to lose phone service on the drive up as well as in the house once they arrive. When they arrive, Steve makes the two of them cocktails, and Noa slowly starts to feel lightheaded and eventually falls unconscious.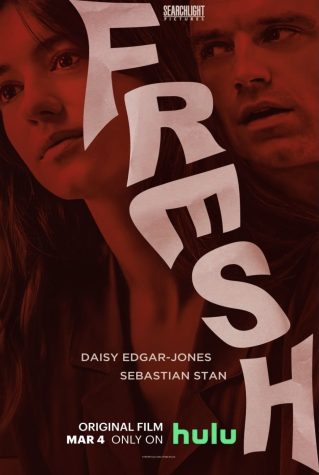 While most movies have the title of the film dramatically pop up after the first few minutes of exposition, "Fresh" interestingly waits until 33 minutes into the movie to do this. The moment Noa passes out and Steve's motives are somewhat clear to the viewer, the title appears behind the two of them, accompanied by unsettling music.
Noa wakes up a while later to the news that Steve had drugged her and handcuffed her to the floor of a locked room. He explains to her that besides being a doctor/plastic surgeon, he is also a butcher who harvests human meat (exclusively from women) and sells it to wealthy clients for an enormous profit. On top of that, he has done what he did to Noa to countless other women.
With Steve now pinned as a sadistic cannibal, one would expect abusive words and actions towards the women he has captured. However, Stan does an exceptional job of bringing a casual nature to Steve's character, despite the situation he has created for these women. Steve's psychopathic nature is visible, but this casual element and wry sense of humor he now shows to Noa is ironically almost a form of comic relief, taking away from how gory and disturbing the film is. Stan maintains such a carefree and positive demeanor throughout the film, contrasting perfectly with the horror and helplessness Noa and his other captives now feel.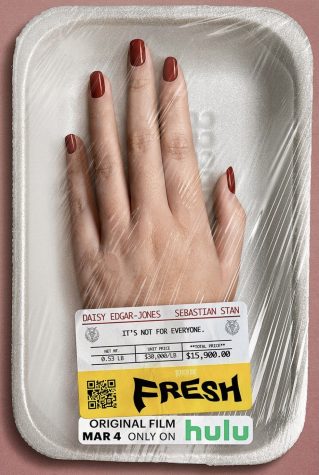 Noa discovers in a magazine one day a message scribbled onto one of the pages: "If you're reading this it means he likes you. Use it. Keep f**king fighting. Sending strength." Thinking quickly, Noa certainly does use this, leading seamlessly into the unexpected and chaotic climax of the film.
Both Stan and Edgar-Jones lean into the absurdity of Steve's lifestyle, almost to the point where this violent and nauseating business plan starts to feel completely normal, even comedic, to the viewer. Noa brings comedy into the way she entertains a twisted fantasy of Steve's to save herself, and these scenes feel as genuine as they did at the beginning of the film, mimicking the innocent excitement of a couple getting to know each other.
While plenty of films exist with this theme of romance turned kidnapping, "Fresh" brings a gruesome, disturbing edge to its story that warps the trope between kidnapper and hostage. Every part of the plot keeps you guessing, and will have you gasping until the very end.