Kanye West, "jeen-yuhs" and a look at the media's favorite narcissist
"jeen-yuhs: A Kanye West Trilogy," Netflix's three-part documentary about the aforementioned artist, has been released in full as of March 2, 2022. Through the lens of filmmaker and narrator Coodie Simmons and producer Chike Ozah, "jeen-yuhs" follows Kanye West's struggles to reach the top as a rapper now a globally known creator. After over two decades of filming, "jeen-yuhs" encompasses Ye's life journey, allowing viewers to know a deeper version of this century's most debated visionary.
"act i: VISION"
Filmmaker and comedian Coodie Simmons began his career as a stand-up comic on the south side of Chicago in 1995. While hosting "Channel Zero," a TV show that was recording the rise of hip-hop in Chicago, Coodie met West for the first time in 1998.
The first part of "jeen-yuhs" is titled "VISION," and begins with Kanye as an up-and-coming producer living in Chicago. Although Kanye was part of a rap group called The Go Getters in his early career, only his production skills were breaking through on the national stage. Despite this, Kanye still had a dream to become a rapper.
Ye's living space in Chicago, with an empty fridge and a DIY studio set-up, is where his career as a producer first picked up. After Kanye moved to New York City, Coodie heard Kanye's beat on the first-ever BET Awards when rapper/producer JAY-Z performed his new song "Izzo (H.O.V.A.)," better known as "H to the Izzo." Knowing that it was the first beat Kanye had ever played for him, Coodie continued to film the young artist and create a documentary about his rise in the hip-hop scene. After West agreed, Coodie packed his bags and followed him to New York.
The footage of Kanye in New York showed a change in him even from just a year earlier in Chicago. Even now driving a Mercedes, he was still just a kid trying to make it in the industry. Kanye needed a record deal, and Coodie believed in him.
Roc-A-Fella Records, founded by JAY-Z, Dame Dash and Kareem Burke, was the number one hip-hop record label. After producing half of JAY-Z's album "The Blueprint," Kanye knew his best shot at a record deal was through Roc-A-Fella Records. Footage is shown in their office where Kanye is showing them his single, "All Falls Down." His passion is undeniable, but everyone at Roc-A-Fella remained unimpressed. Other record labels had verbally acknowledged their desire to sign him but only wanted him as a producer and beat-maker.
After an interview with MTV regarding Kanye's production on "H to the Izzo," he was able to land an interview on MTV's segment "You Hear It First." This opportunity labeled Kanye as an up-and-coming rapper on the big screen.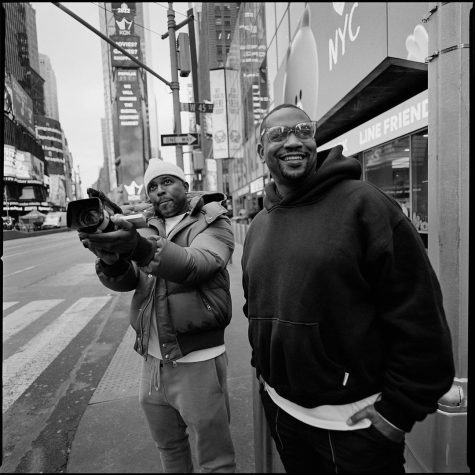 The episode takes us back to a visit to Kanye's hometown in Chicago. Donda, West's mother, is shown in a large portion of the footage. She is a highly supportive person in Kanye's life and undeniably believed in him.
On Aug. 18, 2002, Kanye West finally land a record deal at Roc-A-Fella Records. This only meant future success for the rapper-producer. The documentary episode ends taking us back to Kanye's childhood home. Growing up with very little and on his journey to everything he has ever wanted, Kanye's mother remained the most important figure in every aspect of his life.
"act ii: PURPOSE"
Episode two picks up with Ye in October 2002 and follows a behind-the-scenes look at the creation of his debut record, "The College Dropout." Kanye was extremely motivated to have his work heard, however, Roc-A-Fella had put him aside, constantly denying him an album release date, an album budget and headshots that other artists received almost instantaneously.
West had hopes of getting a feature on JAY-Z's upcoming album, "The Blueprint 2: The Gift & the Curse." Kanye is shown rapping his verse on JAY-Z's song "Bounce," with the New York rapper seemingly impressed with Ye's talent.
In midst of recording his first album, Kanye was in a car crash after a late-night studio session in LA, breaking his jaw in three places, limiting his ability to perform and rap as well as altering his appearance. However, this only sparked creativity in Kanye as he wrote his first single "Through the Wire" directly after the accident, with his jaw still wired shut.
Kanye continued to receive recognition for his creativity. After performing at the 2004 Def Poetry Jam, Ye was in the spotlight more than he ever had been at the time. When Kanye held a "Through the Wire" music video release party, he makes a speech explaining how it was created with money from his own pocket, and Roc-A-Fella had given him nothing. Dame Dash finally recognized Kanye's drive and talent, and following the party, Roc-A-Fella provided Kanye with a release date and budget for his first studio album, "The College Dropout."
Following the release of "The College Dropout," Kanye's fame and fortune grew immensely. The album hit number two on the Billboard top 100 within its first week of release and was nominated for ten Grammys in 2005, winning three, including Best Rap Album. "The College Dropout" remains the most successful album of Kanye West's career.
"act iii: AWAKENING"
The final episode in the "jeen-yuhs" trilogy covers Kanye West's shift from the "old Kanye" to the "new Kanye."
Following years of Ye's fame and glory, the rapper and Coodie began to grow apart. Coodie wanted to release the documentary in 2006, but Kanye said he wasn't ready for the world to see the "real" him yet.
On Nov. 10, 2007, Donda West died of a heart attack, following complications from a cosmetic surgery. Following his mother's sudden death, Kanye visibly struggled with his mental health as he constantly wanted her involved in everything he did.
Coodie recognized a significant change in Kanye. After they had grown apart, Kanye had gone through a tough time from multiple breakdowns publicized in the media to eventually being hospitalized as a psychiatric patient.
Footage of more recent recording sessions was shown in this part, including one with global pop artist Justin Bieber. During the production of "Donda," Ye's latest release, he was also running for the 2020 presidential election. After openly supporting Trump and speaking out against abortion, people called the artist crazy, saying he was in midst of another manic episode. Especially now mixing politics into his artistry, this was the last straw for many, and the public began to actively hate him.
On his journey to healing, Ye then created the Sunday Service Choir, which started as a gospel group in 2019. The artist and the choir have traveled on tour and contributed to him becoming increasingly more religious, alongside the release of 2019's "Jesus Is King." Coodie says in the documentary he felt Kanye was his best self when he was working with the Sunday Service Choir.
---
Leaving out important pieces of Kanye's story, such as his family and marriage with American socialite Kim Kardashian, the final episode takes us full circle, showing that Kanye began with just his faith and determination, and is, in turn, being slowly healed through this same theology.