Spitting fire with Spitphyre
Indie rock band Spitphyre played their first in-person show since October 2021 at The Living Gallery on March 11. The band played the DIY show alongside stainedyellow., Two Thumbs Down and The Backfires. 
Consisting of Jon Ovadia (lead vocals and guitar), Michael Simon (bass) and Jake Valois (drums), the former two who are students at the University, Spitphyre, founded in 2018, was born from the ashes of punk band Fracture, of which Ovadia and Valois were both a part of.
Pulling from indie rock sounds, the band played songs like "Low Q," "Sunset Skies" and their Spanglish track "Melodía." Spitphyre is set to release its third EP this year, with a release date still in the works.
The Pace Press sat down with the trio following their set to talk about making it as a band in NYC, including their sonic influences, long-distance recording sessions and tips for new musicians.
---
After such a complete disorder with the pandemic, it has been tough to believe that live music is back again. From the performer's perspective, what's it been like getting to perform again? 
Jon Ovadia: Oh, it's great. We haven't performed since October. We were supposed to do a show in January, but because COVID got bad around that time, we had to cancel it, and we couldn't reschedule it… We ended up renting this place out!
Tell me about navigating NYC as an up-and-coming band. What have been the pro and cons? The advantages and setbacks?
Ovadia: [Laughs] Oh, I have things to say! 
Michael Simon: 21+ shows suck.
Ovadia: Yeah, 21+ shows suck, they're the bane of my existence. [Jake] is 22, but the majority of the people who come to our shows are 19 or 20. So because of that, most places won't book us unless it's on a weekday or a Sunday. We used to have decent luck before COVID on Sunday matinee [shows] at the Knitting Factory, but we haven't been able to get there since COVID. So everyone's like, "You wanna play Tuesday?" …No [laughs], I don't know who's going to go to the Delancey on a Tuesday. But, this was kind of our solution to that, because the benefit is that people can walk by on the street in Brooklyn and say, "What's going on in there?" and they see the show.
Jake Valois: That's the thing too, with our hometown, now we all live in our own apartments, so it's a lot easier and more accessible. We have a following in the city, so that's what makes this a lot cooler.
Simon: We're just really thankful for all our friends and family, who could actually come and support us, because, without them, we would not have had half the people here, so it's just nice.
You guys started out as a band in high school together, so tell me about your first years as a band.
Ovadia: So our band history is all over the place. Jake and I used to be in a punk band together called Fracture, and that was our hometown punk band, but then we broke up. And I was like, "Oh sick! I'm gonna write soft songs now," because I can't sing punk every day anymore. Then it was like a solo project, then Jake was in it, and then Michael joined and we had another guy who then left, so it's been all over the place! But we've been together since 2018.
Simon: I was Fracture's number one fan back in the day.
Ovadia: He was! When I met Michael, he actually told me he wanted to make a documentary for our punk band, and I still haven't seen it.
Simon: Still in the works [laughs]. I had a lot of footage.
Who are some of your biggest influences on Spitphyre's sound and image?
Simon: What I usually tell when [people] ask is The Strokes, Manchester Orchestra and Jeff Rosenstock, personally.
Ovadia: Jake likes Van Halen.
Valois: Yeah, I mean for me, when I first started [playing drums]… I listened to way different stuff than I listen to now. So from what we recorded two or three years ago, you know, from what we recorded in the past two months, I have a totally different mindset just for who I listen to. I used to just listen to classic rock, but now it's indie, more modern stuff like Kings of Leon, Arctic Monkeys, that kind of stuff. It's all over the map.
I heard that you guys have an EP coming out soon! Is this your first one?
Ovadia: I think this might be our third or fourth one. We got "Geek," "Papaya," so yeah. I guess this would be our third.
Simon: We're releasing that, and then potentially, a split [album] with some of our friends.
Ovadia: And then maybe an album! I have about 30 songs that are in the vault that we're gonna see what happens with them. But definitely an EP, hopefully, a split and possibly an album. 
So when's the double LP happening?
Ovadia: [Laughs] Um yeah… so we actually have the box set coming out tomorrow! 
The reissue!
Ovadia: We're actually going to remaster everything. 
Valois: Yeah, but now that I'm home though, it gives me the opportunity to record all my drum parts, which is basically the only reason we haven't finished it yet.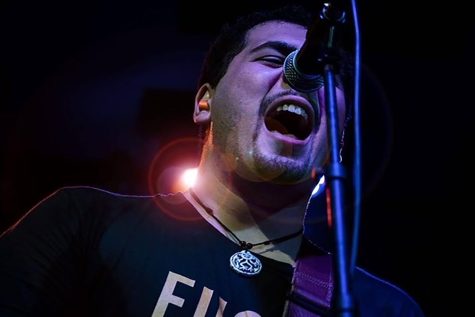 So you guys have been recording all separately, and you send it over to each other? What has the recording process been like?
Valois: Yeah, usually [Jon] will send me the demo, and then I'll record the drums in my basement (I have a studio there), but I'll send it out to them, they'll record their parts and then our friend/producer Buster will master it and mix it.
Ovadia: [Buster] used to drum for me, because Spitphyre started as my own solo project. He had this DIY set up in his basement, so we would just record for a day at his house and then master it. Now, he goes to Drexel University for production, so he's a lot better at it. Every single song except maybe two has been produced by him. I produced the first two songs of our discography, and that's why they sound awful [laughs].
Simon: I produced the Bandcamp stuff, which was recorded in 55 John St.
Ovadia: I hope someday we become famous, so Pace brags about us. That would be my favorite thing.
Bigger than Rachel Ray, right?
Ovadia: Yeah! I want to be bigger than Rachel Ray.
Simon: [SUNY] Purchase brags about Mitski all the time! We could be Pace's Mitski! But who could be Mitski, honestly?
What's your musical training background? Are you guys self-taught, or did you do band in high school?
Valois: Drums are my primary instrument, they're the only one I've played in a band with, but yeah. I try to take drum lessons to be more proficient.
Ovadia: I always say that Jake was a better drummer at 16 than most musicians in their 80s.
Valois: I mean, part of me doesn't want to get too technical with it because I feel like I'd wanna do crazy stuff, but, as lazy as it sounds, I feel like the level I'm at works with what we're doing. That's what's cool about self-taught musicians. Eddie Van Halen, Jimi Hendrix, they didn't know anything about music theory, but I think they're original, and they don't follow the rules. It's better if you don't know the rules because then you don't know what you're breaking.
Ovadia: I learned from a rock musician in a Pink Floyd tribute band. Shoutout to Dylan Kelehan, he's like my older brother. He taught me how to play guitar, and then he was like, "Have you ever played a bass before?" and I was like, "No," so then he goes, "Alright, it's the same four notes," and he gave me a five-minute lesson, and now I know how to play bass!
How long did it take for you to plan out this show, from the initial idea to right now?
Ovadia: Like a month almost. 
Valois: At most two months.
Simon: I have a master list of venues, but some places just weren't open or didn't have room in their schedule, so I emailed The Living Gallery, and they were nice enough to hit us back and say yes and gave us the number, and I was like, "Yeah let's do it."
For the upcoming year, what are your biggest goals as a band? 
Ovadia: We have loose plans to do weekend tours this summer since we'll all be home. I want to hit the Upper East Coast, and I want to end in Virginia. We've got a lot of friends on the East Coast, so I want to do one weekend like Boston, New York, Asbury Park. Another weekend could be Philly, D.C., you know. I want to do that. Hopefully, we can meet more people.
Simon: Yeah tour, put out some music, make some money [which] would be nice!
Valois: Absolutely play more shows, obviously, the more people you have at a show, the better. [I want] more listens on our Spotify, you know just everything. Growing in any way, meeting more people, any way we can grow and play more shows, especially since we've been relatively inactive, but yeah.
If you could give one piece of advice to students just starting their music career, what's your #1 go-to tip?
Ovadia: Go to open mics.
Simon: Get involved in the scene. Just have fun!
Valois: Get proficient with your instrument and play live as much as possible with other people.