Oscars 2022: The most exciting ceremony yet?
This year's 94th Academy Awards, hosted by Amy Schumer, Wanda Sykes and Regina Hall, was a night that will be talked about for quite some time.
With highlights that included "CODA" making history by taking home the award Best Picture, and "Dune" making an astounding Oscar sweep winning six awards, perhaps the moment receiving the most buzz from the ceremony, was an altercation between Chris Rock and Will Smith, where Smith struck Rock in the face for making a joke about his wife, Jada Pinkett-Smith.
Chris Rock appeared to present the award for Best Documentary Feature when he turned to the Smiths and said, "Jada, I love yah, G.I Jane 2, can't wait to see it." These words were all it took to shake up the ceremony for the remainder of the evening.
Pinkett-Smith has publicly discussed that she has alopecia, a rare hair loss condition. Rock's comment compared her bald head to Demi Moore's shaved head in the film "G.I Jane," and did not sit well with Pinkett-Smith, nor her husband Will Smith.
As a result of Rock's joke, Smith proceeded to walk on stage and strike Rock across his face on live television. Smith then walked off the stage and proceeded to shout and swear in an angered manner at Rock, with motives to protect his wife's honor.
Rock was able to maintain his composure and after regrounding himself, he immediately shifted the topic to the Best Documentary Feature Award he was there to present.
Many of Rock's peers had much to say about the incident, including the ceremony's hosts Wanda Sykes and Amy Schumer. Sykes could recently be seen on "The Ellen Show" telling Degeneres, "I just felt so awful for my friend, Chris, and it was sickening." She also went on to say how she felt that Smith should have been removed from the theater afterward.
Schumer similarly defended Rock commenting on her Instagram, "I love my friend @chrisrock and believe he handled it like a pro."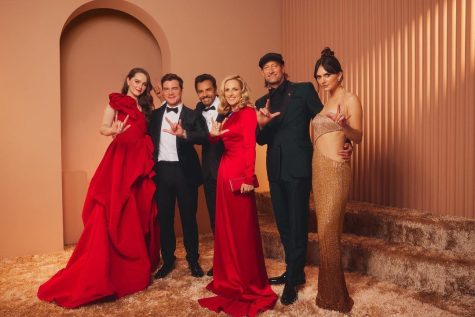 Schumer continued, "[He] stayed up there and gave an Oscar to his friend @questlove and the whole thing was so disturbing."
Many others gave statements in defense of Smith, suggesting that he was not wrong for reacting the way he did. Tiffany Haddish stated in an interview on "Extra" directly after the ceremony, "I remember when that movie ['G.I. Jane'] came out and that was a way to insult a woman… her sexuality, her physique, it was a way to call a woman a homosexual, basically… I remember that in school that they would do that to people. It's kinda messed up."
Haddish went on to say, "Sometimes discipline needs to be administered," and later in the evening at the Vanity Fair afterparty said, "I wish I had a man who would protect me like that."
Multiple other celebrities could be seen rushing to console Smith. Denzel Washington, Bradley Cooper and Trevor Noah are just a few names of people who were seen by Smith`s side after the incident.
Later in the evening, Smith went on to win a well-deserved Academy Award for Best Actor for his portrayal of Richard Williams in the Motion Picture "King Richard."
Smith delivered a very emotional speech stating he wants to be "a vessel for love." Smith included a heartfelt apology to the Academy as well, finishing his speech with "I hope the Academy invites me back."
In the days following, Smith submitted his resignation from the Academy of Motion Pictures, majorly out of respectful compliance, meaning that while he is no longer a member, he could still potentially be nominated for a future performance if other Academy members see fit.
Aside from this unexpected thrill, the evening was full of impactful wins from such actors like Ariana DeBose, whose performance in Steven Spielberg's "West Side Story" earned her an Academy Award for Best Supporting Actress. Debose is the first Afro-Latina and openly queer woman to receive this award.
Another well-deserved win went to Troy Kotsur, who won the Academy Award for Best Supporting Actor for his performance in the motion picture "CODA." Delivering his speech in sign language, the ecstatic actor made sure to thank "all of the wonderful deaf theater stages, where I was allowed, and given the opportunity to develop my craft as an actor."
He continued his appreciative speech by adding that the director of the film, Sian Heder, was "the best communicator, and the reason why is that you brought the deaf world and the hearing world together."
The film also received two other Academy Awards that evening, including Best Picture and Best Adapted Screenplay, making it the first film starring a predominantly deaf cast to be honored in this way.
Film and Screen Studies Major Matthew Hennion gave his opinion on CODA'S success, stating, "CODA winning Best Picture is huge for Apple TV—being the first streaming platform to have a Best Picture win, it will bring a lot more to the table for Apple and streaming services in general. I tend to wish a big win like that to go more of a powerhouse like Spielberg or Paul Thomas Anderson, but I'm happy for Sian Heder. [I'm] excited to see what comes next!"
Of course, the ceremony would not have been complete without spectacular performances from Billie Eilish, who performed "No Time To Die," the song that won her the Academy Award for Best Original Song on the same evening, as well as Beyonce's empowering performance that was displayed of her song "Be Alive."
The song was produced for "King Richard," a biographical film about professional tennis players Serena and Venus Williams, and the relationship they share with their father Richard Williams.
The performance itself took place on the very same tennis courts Serena and Venus were coached on by their father as children. The song's inspiration came directly from the Williams sisters' journey, and the lyrics contained messages of black pride and the power of family.
It can go without saying that several milestones were set at this year's Academy Awards. Multiple times during the evening norms were broken with new heights of recognition. Whether it was a predominantly deaf starring film winning Best Picture, the first queer Afro-Latina woman to win Best Supporting Actress, or just simply put, a joke gone sour, the 94th Academy Awards was one for the history books.