Glam rock stars The Pistols make their NYC debut
The Pistols, an LA-based rock band, made their first New York City appearance on Saturday, Mar. 26 at Our Wicked Lady in Brooklyn. 
A part of Chloe Chaidez's record label, PSY Sound, The Pistols includes drummer and vocalist, Chloe (also known as Sunshine), guitarist and vocalist Mickey Pistol, guitarist Monika, and bassist and vocalist, RED. The four make up the ultimate 80s-inspired glam rock girl group, creating music that encapsulates rock and roll and sets out to bring people together. 
The Pace Press had the opportunity to sit down with The Pistols to discuss how they work together as a band, their music and PSY Sound. 
View this post on Instagram
The Pistols were the most recognizable amid the crowded hotel, adorned in bright hats, colorful jackets and the aura of rockstars. Nothing could encapsulate the conversation more than one of the first things said by RED, casually stating: "We are just rock and roll." 
PSY Sound is an LA-based record label started during some of the first COVID-19 lockdowns by Chloe Chaidez. Ayesha manages the group after having met Chloe through Instagram. The pair hit it off and Ayesha is a vital member of PSY Sound. The label represents not only The Pistols but artists like The Vampiros, Rat Bastard, Body Party and Dog Muscle. The Pistols described the label as the most supportive community possible, Mickey even saying: "I've never felt more supported in my entire life. I've never had a group and now I'm a part of it."
Chloe told us a bit about starting the label:

"During quarantine, all the tours were canceled so I started skating a lot more and PSY started with a skater girl band called 'BODYPARTY'. One day, I hosted this girl's skate day and Morgan (Red) came with a couple of other girls, walked back into my studio, and I was like: 'what if we started a skate girl group?' That night we made a song called BODYPARTY."
Monika and Red had been friends for 9 years before The Pistols, but the members had never really been together as a group. 
Mickey described how she was recruited for the band, having been told about auditions for a drummer for The Pistols: "I was like, no, I'm not a drummer…"
Chloe said that at Mickey's audition she just "had the vibe," Ayesha chiming in: "we just knew right away." 
Red, who is also a member of the group BODYPARTY had taken a break from acting when she met Chloe. She told us: 
"My dad was a big musician in the 80's so I have always loved music. So, I met Chloe and I was like, 'f*ck it, let's do some music, let's do BodyParty.' She told me about The Pistols project and I thought it was perfect because I am rock and roll in my heart. I love skateboarding and everything too but that's my soul that's my heart."

"I auditioned for The Pistols and Chloe called me while I was grocery shopping in Wal-Mart. She told me I was in the band and I literally fell to the floor."
Chloe told us that since the launch of The Pistols, less than a year ago, "we haven't had to book one show, they reach out to us."
The Pistols began with the mindset that they had already made it big in the music industry, taking "fake it until you make it," quite literally. Performing as famous rock stars, their mindset has been to show the world who they are from the jump. The crew talked about a trip to Las Vegas they once took, stating: "Let's go to Vegas and blow up, you know. That's kind of what we're doing here [in NYC], that's our mentality is we'll just go there and be ourselves, and we'll blow up." 
Ayesha commented on how The Pistols often go viral on Tik Tok, which introduces a lot of influencers to the band.

Chloe explained that Tik Tok often has people question the band and call them "industry plants."
Mickey commented: "I love that. People are like 'you're so good, you must have been planted.'"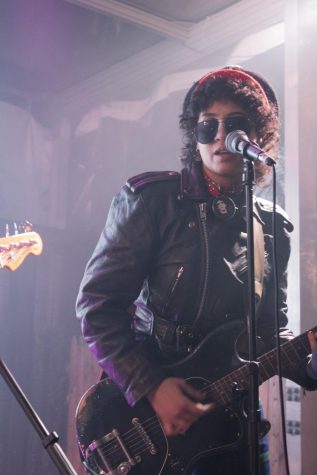 Taking inspiration from bands like Mötley Crüe, the four women have based the band around the glamor and fun of the 80s. The four members also have pieces of themselves that have come up through the process of working on The Pistols. Each girl has a persona or presence that they embody onstage that has only strengthened their ties to rock and roll. Chloe explained this process and how this ties into PSY Sound as a collective: "when you come to a show or the studio, which is just my house, there's a beautiful connection made. It is fun for everyone to dress up in the world, so when they come to a Pistols show, it's like 'I'm in Motley Crue," if you go to a Body Party show they skate. Everyone has their own thing and supports each other."
Chloe goes by Sunshine while performing with The Pistols, stating: "Sunshine was actually a name I wanted to be called when I was little, so when I was deciding on a name I thought 'that works.' I wanted to have completely different hair. With Mickey, her name was already Mickey Pistol so it just worked."
Red let us into her method of performance as well: 
"Red is kind of my alter-ego because I come from an acting background, I like acting because I can become someone else because I am not the most confident in who I am, which is getting better, but Red is more like the confident, sexy, crazy, bass player that I would like to be. I embodied that. When people call me Red I do identify as that person as well. It's not just an alter ego to differentiate myself from body party,  I am Red."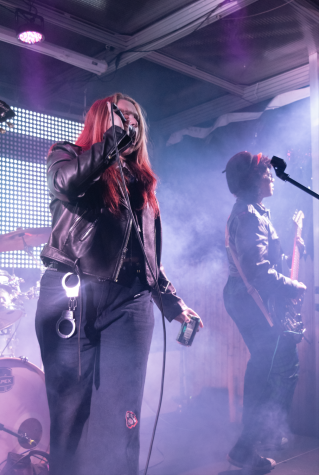 Chloe commented: "Everyone has different people and artists inside of them so it's so cool that we all can shapeshift." 
Chloe and Monika actually met while Monika was dressed as her alter ego of sorts, Aleksandria. She wears huge platform heels and embodies the essence of "that b*tch." Monika said:  "I do screen printing and art and this character came from it and I just decided to dress like her for Halloween." 
The Pistols even let us in on an important piece of their relationship as a band, the Pistols Bible. They recommend creating a bible to keep a group grounded and centered in what they're together for. The Pistols Bible entails: 
"1. We rock. 2. No matter what happens we work it out, TOGETHER. 3. We remember how special we are TOGETHER. 4. In the end, we are TOGETHER."
These commandments remind the members why they do what they do and how important their relationships with one another are. Chloe commented, "Female relationships are the best, but they can also be so hectic and aggressive. So, we just have to navigate those and be together." 
The concert was intimate with multiple DJs and openers to set the stage. University student, M DeAngelis, under the name Moxie Angel, made her debut performance of her original song "Ya Late," followed by three cover tracks. With the support of Chloe on drums, she lit up the stage with the enigmatic force of a star. 
The Pistols took the stage clad in their gaudy hats, punk jackets and the stage presence of a band who has been on stage for decades. Although they are just coming up on their first anniversary of performing together, one would guess they had played together their whole lives. 
The Pistols performed a few tracks that have yet to be released, like the opening rock banger, "Backstage." The song brings out a different side of the band, with a more classic punk feel to it. Following the new track, they performed "Chasing Thieves," a single released in 2021 that easily plays on repeat in your mind.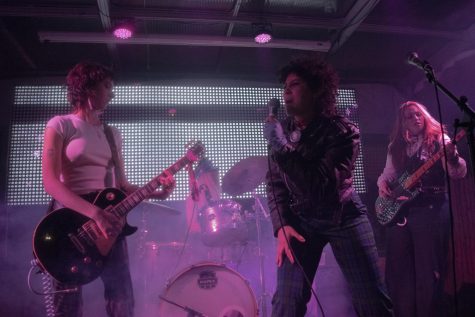 One of the most electrifying moments of the night was The Pistol's cover of "I Wanna Be Your Dog," by The Stooges led by RED's growling, intense vocals. The energy onstage was unmatched, with each woman delivering a performance unlike any other. The handle each member has on their instrument is deeply impressive, and their musicianship is obvious as they perform. The crowd lunged toward the stage as their energy surged forward, The Pistols were completely connected to the audience. 
The Pistols performed one of their latest releases, "I Just Really Think I Miss You," which soars with Sunshine's airy whisper and electric guitar filling the room. Monika shreds in her solo amidst a screaming crowd and excitement from her bandmates. The dynamics of the group came out in this song, showing their support for one another and the way their music comes together as they do. The track has all the makings for a classic, bringing together a new age of punk rock and 80s rock and roll. 
The concert felt like an extension of the band's world at PSY Sound in LA, one that accepts everyone and brings artists of all kinds together. The Pistols are just getting started and are soon to take the world by storm as the undeniable rock stars they are.