How to do Record Store Day right
Ever since Tumblr algorithms tapped into the public's need for escapism from our digital existences, through romanticizing vintage aesthetics with Polaroid cameras, Converse Chuck 70s and typewriters, a craze for collecting vinyl records has overtaken the world, due to its corporeal qualities of holding a material piece of sound. This trend has extended so far into our lives, that every April devout collectors will line up outside record stores worldwide for hours, hoping to snag these circular pieces of wax, on what is known as Record Store Day.
Record Store Day was founded in 2007 to celebrate independent record stores and music by releasing limited-edition vinyl records each April (though the pandemic has disrupted this date more recently). Most records have special pressings beyond just the standard black vinyl, in unique colors and patterns, and some records get their first-ever pressing on Record Store Day. 
The coveted day gives people the chance to own a piece of interactive and music memorabilia and add something exclusive to their record collection; once Record Store Day is over, that year's pressings go deadstock and won't be produced again. For some, Record Store Day is the music community's own Black Friday as record collectors get the jump on a limited LP, bound to skyrocket in value instantaneously.
But all in all, Record Store Day is a celebration for audiophiles and gives people the chance to support local businesses. This year's Record Store Day will take place on Saturday, April 23 and you can view the full list of releases on their official website with more information here. 
If you're looking to snag something special this April and you're a newcomer to Record Store Day, here are our tips to make your record hunt successful.
---
Create a wishlist and prioritize
Each Record Store Day, only a handful of records are manufactured worldwide, and thus, stores will have an extremely limited inventory. So while this year Donna Summer's self-titled picture disc record has a total of 3,500 copies, your record store might only get in two pressings, or none at all. Childish Gambino's "Kauai" is getting its first official release on vinyl at 18,000 copies, so for superfans of the musician, keep an eye out for your store's inventory. For Swifties out there, Taylor Swift is the first global ambassador for Record Store Day, so be sure to pick up her 7″ record for "the lakes" and keep your eyes peeled for any other surprise releases. Most record stores post the list of what they received a few days before Record Store Day on social media or their websites, so you can plan where to shop and place your bets. Make sure to check the full list of releases to prepare your shopping list, based on the number of copies and your necessities.
Get ready to wait
Record Store Day attracts thousands of music fans to indie record shops every year, and the city is no exception. Serious RSD-goers will even camp outside of their local record shop to make sure they have first dibs, in the same way that S.N.L. fans camp out days before to get tickets for the sketch comedy show. If you're dead set on camping out, head out with a friend and create a buddy system for your wait. But, fret not! If you don't feel safe (or don't want to sleep on the street), you can line up an hour or two before your record shop opens, and you'll be sure to get your hands on something memorable.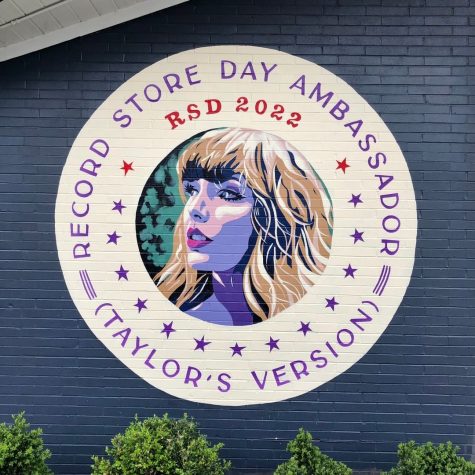 Prepare for the weather
Though the weather has been warming up lately, it can always fluctuate, and a cold front has no problem upending your comfort when waiting in line. While scaffolding can save your hair in stormy weather, it's no guarantee that your record store will have an overhang for you to thank later. In April, rain is always to be expected, so be sure to bring an umbrella or poncho for waiting outdoors and a warm sweater or jacket in case the temperature drops. It's always better to be safe than sorry, so prep for whatever weather comes your way!
Research online and take notes
Many record stores have been doing Record Store Day differently since the pandemic began to cut down on capacity inside stores. Some will offer numbered wristbands, given out a few days before Record Store Day, so you don't have to camp out, while others keep things traditional. Shops usually post about their process leading up to the day, but if you can't find immediate answers, DM'ing their social media or sending an e-mail can help you find what you're looking for. Stores like Rough Trade NYC have cut down on store capacity by handing out wish list forms to shoppers, so employees can update the line on what is available. Other stores, like Village Revival Records, follow a first come first serve basis. Check out their shop and chat with Jamal Alnasr, the store's congenial owner, whose passion for music was highlighted by Humans of NY in 2021.
Know the code 
Record Store Day is all about the personal shopping experience and making exclusive music accessible to all, so there is a strict policy on calling ahead to hold orders or buying out an entire supply to resell. Participating stores even sign a pledge confirming they will not hoard their inventory for their gain. It is a no-go to try and call ahead if you can reserve a copy, and many stores have a one copy per person limit. However, if you can't make it for in-person shopping, most record stores will post their remaining supply on their websites for online orders often the day after Record Store Day, where you can try your hand at buying some records.
Have fun!
This is all daunting information, but more than anything, Record Store Day is a celebration of independent businesses. Many record stores in New York City are sponsored by surrounding businesses and cater in food and drinks, so grab your friends and try out something new! Psychic Records in Park Slope has DJs spinning records for your enjoyment and will be serving refreshing beverages all day long, and Village Revival Records will be hosting raffles for records and stickers through their social media. Meet the people you're waiting in line with, make new friends and enjoy the day because even if you don't find what you're looking for, you might find some new tunes you'll fall in love with.
---
Our top ten releases students should keep their eyes out for:
Alice in Chains – "We Die Young" (standard black vinyl)

Angelo Badalamenti – "Blue Velvet (Original Motion Picture Soundtrack)" (marbelized blue vinyl)

Chief Keef – "Sorry 4 The Weight (Deluxe Edition)" (first pressing standard black vinyl)

Childish Gambino – "Kauai" (first pressing surprise color vinyl)

Czarface – "Czarmageddon" (standard black vinyl, exclusive trading cards included)

Future – "DS2" (double teal vinyl)

Kacey Musgraves – "star-crossed" (picture disc)

Red Hot Chili Peppers – "Unlimited Love" (silver vinyl)

Rex Orange County – "Apricot Princess 5th Anniversary Edition" (green colorway vinyl)

Taylor Swift – "the lakes" (7″ single gray vinyl)
Local record stores to support this Record Store Day: