Ethel Cain delivers delectably dark performance at the Bowery Ballroom
Ethel Cain is a reflective character made from the emotions and memories instilled within Hayden Silas Anhedönia's mind and body throughout her Southern Baptist upbringing. In her discography, Cain utilizes her current Southern Gothic aesthetic alongside an ethereal style of singing, gregorian chants and ambient-folk melodies with contrasting classic rock undertones. Even her use of song titles contributes to her overarching stylistic imagery, including "Unpunishable," "Inbred" and "God's Country." Her choice of harmonies in each song are evocative, especially when paired with the chilling voices of fellow audience members, and her concert on Sept. 10 at the Bowery Ballroom was an experience to remember.
"A House in Nebraska" overwhelmed the audience as Cain's powerful lyricism rang through the venue. "And it hurts to miss you, but it's worse to know–That I'm the reason you won't come home" left parts of the audience in tears during the NYC stop of her Freezer Bride Tour.
Well-attuned to the southern appreciation of Cain's style of music, an audience member gifted her a cowgirl hat from the front row. Subsequently, Cain accompanied a song not only with her voice – but with a harmonica. She often references traditional American values in her music, such as traveling through the west.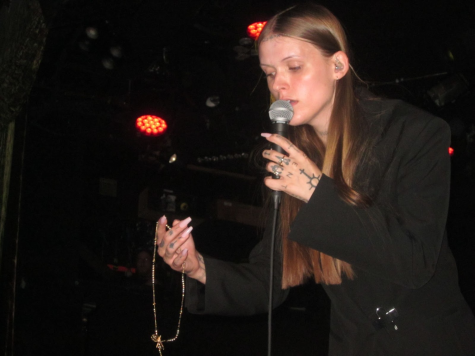 In an interview with STUDIO 01, Cain mentioned that at the beginning of her musical career, people often compared her music and character aesthetic to Lana Del Rey, an artist whose aesthetic is more so about the glitz, glamor and opulence of America. In contrast, Cain's ballads consist of stories of the "broken American dream." Her lyricism depicts the existence of being a bisexual, transgender woman raised within a southern church, and Cain takes part in the reclamation of Southern Americana, from which queer people have often been ostracized from.
Through her character, Cain pushes the boundaries of societal norms in terms of exhibiting what mental turmoils people experience in silence. This character is an embodiment of the fears and memories of Anhedönia. During the inception of the figure "Ethel Cain," she often used polarizing and eye-catching imagery to "set the stage" for her aesthetic like the American flag, guns and churches. Moving forward, she plans to focus on the interpersonal trauma of women, which was announced in an Instagram live on June 29, 2022. This will encompass issues that she has dealt with firsthand, along with stories from other women who have faced the tribulations of living within the patriarchal American society.
Through her music, she explores the depths of grief, hatred and grim human nature in a way that acknowledges these ways of thinking without encouraging them. Cain does not demonize these emotions; instead, she uses them as art. "Whenever I started to develop, I started to come into my own as a trans woman," Cain stated in W Magazine. "We were a house divided, it was me versus my whole town."
Musically, Cain is influenced and inspired by Florence Welch and Enya. Like her inspirations, each of her albums are full of dramatic scenes and experimental instrumentals. In the album, "Preacher's Daughter," Cain escapes from her overly religious upbringing only to find herself investing in a doomed relationship. From then on, she experiences moments, ranging from being kidnapped to drug addiction and prostitution. The end of Cain's journey leaves off with her being devoured and cannibalized by her lover, which can be experienced through her song "Ptolemaea."
As the beautifully haunting voice of Cain filled the venue with its brevity, she connected with her audience as a whole. Audiences' hands raised in unison with close eye contact following after. The crowds' clothing ranged from being adorned with rosaries, vintage eyelets and ivory-toned cottagecore dresses to those wearing "God is like…" crewnecks and jeans. With the privilege of observing Cain's performance, tears were shed and she left the audience entranced in a state of awe and reverence. There was an uproar for an encore shortly after Cain left the stage, to which she modestly complied, and the audience got a chance to feast their eyes on her once more.