The Eagles Documentaries Parts 1 and 2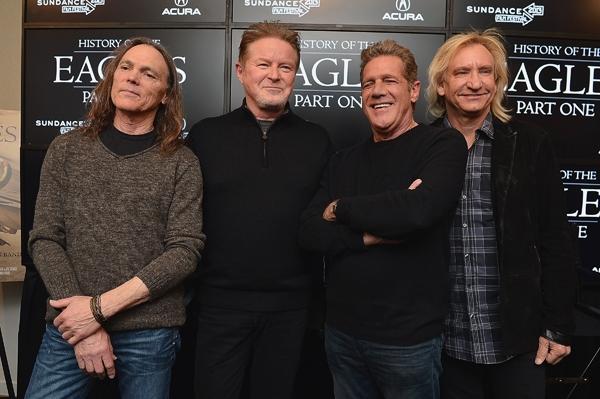 Long before the haunting opening chords of "Hotel California" became one of the most recognizable guitar riffs of all time, Los Angeles based group the Eagles had already endured their share of triumphs and struggles. With a story as remarkable as their accomplishments, they remain one of the few bands to successfully transcend the change of times through multiple decades. This forty-five year journey was depicted in the band's two part documentary, History of the Eagles.
The documentary begins with the band at the peak of their careers, warming up vocals backstage at a 1977 concert in Washington, D.C. For the first ten minutes the documentary solely consists of grainy footage and interviews from this 1977 concert, showing shaggy haired band members joking around with each other. Anyone familiar with the band's closely monitored turbulent history immediately begins to wonder what went wrong. Just a few years after the footage of a gang of rail thin best friends with immense talent and a seemingly endless supply of patchwork denim was shot, the band abruptly disassembled.
The 1977 footage shows an unsure and obviously unexperienced group of young men hopeful for longevity, but unsure if their fifteen minutes of fame was bound to run out. Ironically, the documentary cuts from this to commentaries of Eagles band members today instead giving perspective on the failure of the band. The documentary follows a brilliant format of beginning its story with founding Eagles members Don Henley and Glenn Frey. The documentary tracks their upbringings in Texas and Detroit, respectively, citing musical influences that helped them cultivate the Eagles' unique sound years later.
Henley recalls trying to make it in a band called Felicity while living in Texas until a pivotal point in his musical career changed everything: After a Kenny Rogers concert in Dallas, Henley had a chance meeting with the legend himself and invited him to a Felicity show later than night.
Reluctantly, Rogers went and loved their sound so much he invited them to LA, where they lived in his home for four months as Rogers pushed the band onto his record label. Oddly enough, the band had a hard time taking off and later disbanded. Henley remained in LA playing with other bands and met label mate and future Eagles member Glenn Frey. Coincidentally the two were invited to be a part of Linda Ronstadt's backing band on tour. After a few months, the two were anxious to make their own music and gave their notice of leave to Ronstadt who was not only understanding, but supportive.
The two practiced song writing and cultivated their talents, becoming one of the most iconic songwriting duos, drawing comparisons to the McCartney-Lennon duo. Along the way they gained members Randy Meisner, Bernie Leaden and signed with David Geffen to Asylum Records. Together they discovered the bands identity and namesake, which came after seeing an eagle soar over them during a photo-shoot for their first album cover in Jackson Tree under the influence of Peyote buttons.
To coincide with their changing sound, over the years the band replaced and added various members; trading Bernie Leaden with solo artist Joe Walsh, and adding blues guitarist Don Felder. They also replaced founding manager and industry legend David Geffen with Irving Azoff after a music publishing and songwriting rights injustice that left the Eagles powerless concerning their body of work. The added stresses of trying to evolve with the changing times both politically and socially, as well as the internal power struggle within the band was the beginning of the bands demise. Musically however, the band was enjoying their peak of success. "Hotel California" made music history and affected more people than they ever imagined. To this day it is one of the most iconic songs of the 20th century.
But after the success of this album, the band's tensions grew too high and Randie Mesiner left the group in 1978 to be replaced with bass player Timothy Schmidt from the band Poco. Schmidt was oblivious to the age-old problems within the group, but soon an alliance between Henley and Frey and Walsh and Felder was formed. The tensions reached their peak in 1980 when Frey finally had enough of Felder's negative attitudes. The audio captured from this performance with Frey quoted as saying, "I'm gonna get you. I can't wait." Tensions burst after the show wrapped backstage for the final time. The band's last performance was July 31, 1980. Post-Eagles, most members enjoyed their own successes with solo and side projects, but for most members it just wasn't the same.
In 1994, the band reunited for the first time in 14 years after being inspired by a video shoot for Travis Tritt's cover of "Take it Easy" for Don Henley's Walden Woods charity. Today the Eagles are still active, but tensions rose between Don Felder once again when Henley and Frey demanded that they earn a higher percentage because their contributions to the group are significantly more than other members. All members happily agreed, while Felder decided to walk away. Today the Eagles are Timothy Schmidt, Don Henley, Glenn Frey, and Joe Walsh. The Eagles are currently on a 45th anniversary world tour and are scheduled to make a two night stop at Madison Square Garden on November 8 and 9.