'Saturday Night Live' is back with fresh faces for Season 48
New and acquainted fans of "Saturday Night Live" (SNL) slept–or rather didn't–under tarps, wet blankets, umbrellas or nothing at all on Oct. 1 in the Standby Reservation Line, waiting nearly 12 hours in remnants of the torrential downpour from Hurricane Ian. The reward for such bravery was an unguaranteed, nosebleed seat to the Season 48 premiere dress rehearsal or live screening, hosted by "Top Gun: Maverick" star Miles Teller and accompanied by critically acclaimed musical guest, rapper Kendrick Lamar.
After a year-long hiatus and the mass exodus of eight of its cast members, viewers finally saw four of their newest comedic talents in action, featuring Marcello Hernandez, Molly Kearney, Michael Longfellow and Devon Walker. The four fresh faces shared the stage alongside veteran cast members like Michael Che, Mikey Day, Colin Jost, Kenan Thompson and Bowen Yang.
Teller, transitioning from cinema to television, hosted his first "SNL" episode and participated in a cold open with the familiar political banter "SNL" fans know all too well. In another episode of "ManningCast," a televised analysis of Monday Night Football, Hall of Fame quarterback Peyton Manning (Teller), and his younger brother Eli Manning (Andrew Dismukes), provided a play-by-play for the audience on the skit being performed.
As the two made a mockery of the acting unfolding before them, James Austin Johnson played his recurring role as former President Donald Trump. Like most "SNL" skits, it framed the former President as nothing more than a political laughing stock and pariah, making sly remarks on the ongoing investigation into confidential documents seized by the FBI that were taken from his Mar-a-Lago residence.
Emmy Award-winner Jon Hamm, best known for his portrayal of Don Draper in "Mad Men," had a featured guest appearance and joined the Manning brothers in the commentary, ironically noting that what he was witnessing "was not comedy."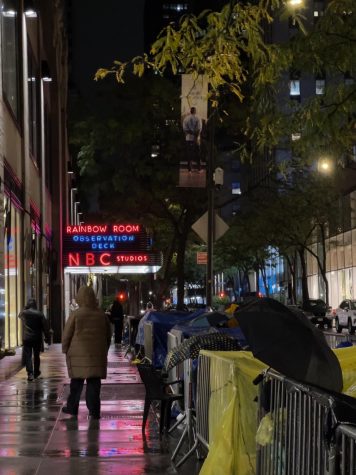 Following the run-of-the-mill introductory skit, Teller opened his monologue reminiscent of his early childhood, playing a heartfelt video that his mother drove 15 hours to deliver. The recording shows an eight-year-old Teller and his sister reenacting "The Spartan Cheerleaders," a sketch that featured Will Ferrell and Cheri Oteri from Season 23 in 1997.
"But seriously, how crazy is that? My parents used to watch me doing skits in my living room, and now they're here watching me host Saturday Night Live!" Teller enthusiastically shared.
As for Kendrick Lamar, also referred to as "K.Dot," it was not his first time around the "SNL" block as the premiere of Season 48 was his third time as the featured musical performer. The backdrop for his performance was an utter white box, with shadows and lighting to complement his mysterious ora, partnered with a set list that included songs from his most recent album, "Mr. Morale & The Big Steppers." He performed a chilling rendition of "Rich Spirit" and "N95" and brought out Sampha for "Father Time."
Out of the nine skits showcased during the dress rehearsal, only five made it to the live broadcast, some of which surprised University fans. 
There for the dress rehearsal, University senior Zoe Cecil-Kempski was #46 in the queue and later received ticket #18. "In dress, we saw a Sarah Sherman-led sketch called 'Jewish Elvis' that didn't make it to the live show," Cecil-Kempski remarked. "I think 'Jewish Elvis' was a stronger sketch, so hopefully, it makes it to YouTube."
The live show started with the "ManningCast Cold Open," which was followed by the sketch "Send Something Normal," where Teller played game show host Halen Hardy. The four male contestants, Day as Adam Levine, Johnson as Armie Hammer, Thompson as Neil DeGrasse Tyson and Bowen Yang as himself, were tasked to reply to a woman's direct message on Instagram "in a way that is normal" to win $100 million. The overall premise of the skit was to poke fun at memes of Adam Levine's cheating scandal which went viral in September after his direct messages with Instagram model Sumner Stroh were leaked.
The pre-filmed BeReal ad that followed, which Yang ironically mentions is "the only honest social media," took place in a failed robbery attempt. Teller, one of the robbers, is a social media cynic-turned-believer and is convinced to download the app by a customer to partake in "being real" before the two-minute window disappeared.
Other notable skits that made the live broadcast include "Rooftop Bar" and a parody of Nicole Kidman's AMC ad, where she turns into a Thor-like hero while her followers chant, "Heartbreak feels good in a place like this." Then, Jost and Che took the second to last slot with "Weekend Update" before the broadcast ended. There is no "SNL" without this classic segment, as it has appeared ever since "SNL's" first broadcast on Oct. 11, 1975. There were a few special characters unveiled on the "Weekend Update," Longfellow being a standout.
"I was pleasantly surprised by Michael Longfellow during 'Weekend Update,'" Cecil-Kempski shared. "He had a stellar comedic flow and took on the challenge of being the first new cast member to do 'Weekend Update' since Pete Davidson in 2014."
The last skit of the evening ended with "Grimace," where Teller, as the McDonald's mascot, loses 300 pounds, has shredded abs and comes out as bisexual to his fellow mascots, including Day as Ronald McDonald, Yang as the Hamburgler and Thompson as Mayor Cheese. 
"I'm a big fan of 'SNL,'" University sophomore Will Schmid said. Schmid was #216 on the queue for the Live performance and happened "to see the online queue on ['SNL's'] Instagram ten minutes before they opened it."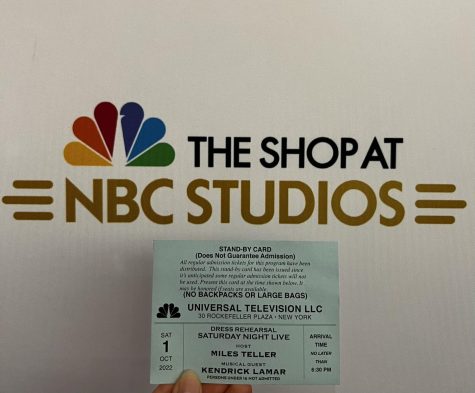 Besides the lottery, NBC has introduced a new means of getting a last-minute ticket. To attend any of the "SNL" dress rehearsals or live broadcasts via Standby Reservation, a virtual queue opens at 10 a.m. the Thursday before a show and closes after the 300 available slots are filled. Individuals can reserve up to four tickets, and those fast enough to input their name and email are sent a queue number and instructed to arrive at the NBC Studios Marquee, at 7 p.m. on the Friday before the show. From there, guests are required to stay in their designated queue spot until 7 a.m. the following morning and are only allowed to leave for ten minutes at a time for food and bathroom breaks. Then, at exactly 7 a.m. on Saturday, guests receive a ticket with their new entry number and are asked to return later that evening for the 8 p.m. dress rehearsal or 11:30 p.m. live broadcast. 
For those who question spending a day's worth of hours in the Standby Reservation line, Cecil-Kempski said this was her "eighth time doing the Standby line and seventh time making it in," having experienced the worst rain yet this time around. However, she would "absolutely recommend doing the Standby line, despite the not-so-great weather. It's a great experience to have and truly some of [her] favorite memories from [her] time so far in New York."
Be sure to check out the "Saturday Night Live (SNL) Standby Line" podcast for tips on how to prepare for a night of sleeping on the streets of New York City, as well as "The SNL (Saturday Night Live) Network" podcast to hear media coverage on the latest episodes. Also, don't miss Season 48, Episode 2, happening Saturday, Oct. 8, hosted by Emmy Award-winner Brendan Gleeson and musical guest, WILLOW.