Get ready with Spotify: Spotify pop-up thrift store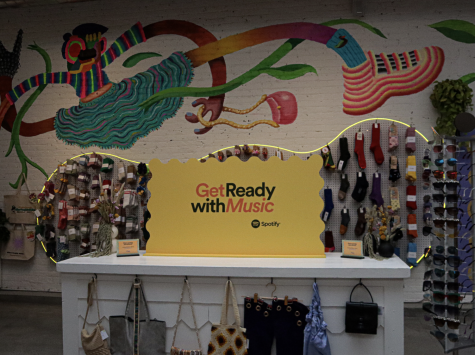 Spotify had a pop-up thrift store in Brooklyn this weekend promoting the tagline GetReadyWithMusic. The event was held from Sept. 29 through Oct. 2 at Other People's Clothes in Bushwick, providing a thrifting experience with clothing organized by "vibe."

Spotify didn't advertise the event to the general public, only extending "VIP" invitations to select Spotify users so unless you received the email, got word from a friend or happened to walk past that particular weekend, it's likely you didn't hear about it.
Walking in, you're greeted by a large display encouraging guests to "Get Ready With Music" using a featured QR code, and a small description of the pop-up explaining that "each section in Other People's Clothes is inspired by different music. Follow the frequenc
ies that resonate with the styles you're looking for. And don't just try on clothes, listen to them." 
The posted QR code takes scanners to the Spotify app, prompting users to get a playlist based on their style using GetReadyWithMusic. When asked what GetReadyWithMusic is, Spotify advises listeners to "think of it as a playlist generator with the songs that match your style. Or as an accessory that complements the looks you love putting together. You give us the activity you're getting ready for, the color mix that you're wearing, and the texture of your outfit. We then blend all of that together and create a mix of tracks that go with your look."
The store was divided into seven sections, each section organized by vibe: fuzzy, crispy, wavy, smooth, shiny, bubbly or cozy. The vibes were separated by walls put up by Spotify featuring different textures and colors to match its respective vibe. Small speakers were installed above each section playing music corresponding to the vibe. Visitors were also given the opportunity to choose the music playing throughout the whole of the store using iPads stationed throughout the space.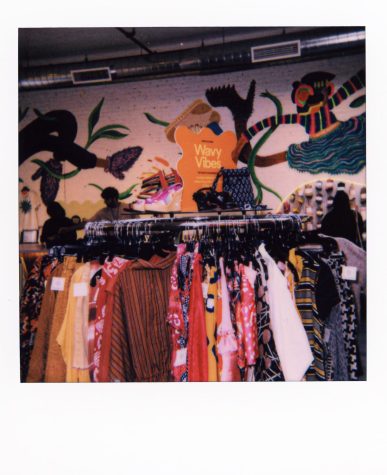 The pricing was reasonable for NYC thrift, ranging anywhere between $16 for a vintage leather jacket to $50 for a used but new pair of Doc Martens lace-up combat boots. There was a large variety of colors, textures and styles, and it was somewhat size-inclusive. There were some plus-size pieces littered throughout the store but, like most vintage stores, wouldn't recommend the shopping spot for plus-size friends with confidence. If anyone has visited L Train Vintage's Manhattan location, Other People's Clothes is comparable in price and style. 
There were both Other People's Clothes employees as well as specially hired workers for the pop-up. Employees brought in by Spotify were gifted matching pants custom-made for the wearier featuring vibrant waves or blocks of color patterned down the legs. 
Diana Byrd, a P10 employee brought in to ensure the event would move smoothly applauded Spotify, sharing "I love how a private company is gearing towards more sustainable and eco-friendly stores featuring small brands. A lot of people don't know about Other People's Clothes, so this event has been a great highlight for them." 
Before it opened to the public, influencers were invited to kick-off the event with host Tan France, Pakistani-British-American fashion designer and television personality on Netflix original "Queer Eye," who styled guests using pieces from the store and walked listeners through using Spotify's GetReadyWithMe platform.
Lexi Krakowski, a freshman Marketing major at the University attended the pop-up and felt "the vibes and atmosphere of the event were super chill. The way they set up their store made it even better to match each of the themes to the clothes and it made my first time thrifting an experience I won't forget." Even if you mi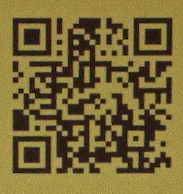 ssed Spotify, Other People's Clothes is still open from 11 a.m. to 9 p.m. every day on Troutman Street, and neighbors L Train Vintage and Urban Jungle are just a six-minute walk if you feel like adding a thrift hop to your trip. Spotify hasn't released any statements regarding joining the fashion world, but listeners are kept wondering if this event held deeper meaning for the company's future.