'Just Above Midtown' exhibition stuns at the MoMA
On the third floor of Manhattan's Museum of Modern Art (MoMA) in The Edward Steichen Galleries is the liberating exhibition "Just Above Midtown: Changing Spaces" that focuses on displaying African American art and establishing the Black artists' voices during the 1970s. "Just Above Midtown" ("JAM") opened its first home in 1974 on the fifth floor of an office building in a predominantly white commercial gallery district. 
Led by Linda Goode Bryant, the community transformed the office building into a creative, inspirational and extraordinary gallery where artists of color flourished. The gallery offered early opportunities for artists now recognized as pivotal figures in art in the late 1900s, including David Hammons, Lawrence D. "Butch" Morris, Senga Nengudi, Lorraine O'Grady and Howardena Pindell. Filled with fueled artistry, the "JAM" gallery organized more than fifty exhibitions, a selection of which are displayed for public viewing at the MoMA.
"JAM" was not just a gallery showing the art of artists of color. It was an act of activism that included broad and public engagement, helping to launch a childcare cooperative for Black creators and hosting $5 informational lunches about collecting art geared toward Midtown professionals. It organized exhibitions that explored the idea of artistic and racial mixture, encouraged artistic collaborations, the use of nontraditional material and offered a platform for consistent critiques of the commercialization of art. Goode Bryant believed in trying to "connect us to our innate ability to use what we have to create what we need." This is exactly what the "JAM" exhibition exudes.
There is much to be said about the exquisite nature of the art and the artists portrayed in this limited-time exhibition. People would walk by an art piece and stare at it for long periods analyzing the superlative, abstract nature of the varying art pieces. When entering the exhibit, it's as if one is taken into a new realm of art, creativity and imagination. The way these artists used untraditional, everyday materials and created the most captivating pieces is incredible. 
"I love how the exhibit captures the diverse art styles within the African American community and highlights the stories that they have to tell by showcasing them in a very well-executed and captivating way," said University student Jayna Moskovitz who attended the "JAM" exhibition.
When asking her how the art pieces and atmosphere made her feel she said that it made her feel "educated on the "JAM" movement and the African art styles and perspectives." Moskovitzs' favorite piece was "MaeGame" by Suzanne Jackson because of its "aesthetically pleasing acrylic wash and color choice." To her, the three words that best describe the gallery are "eye-opening, empowering and abstract."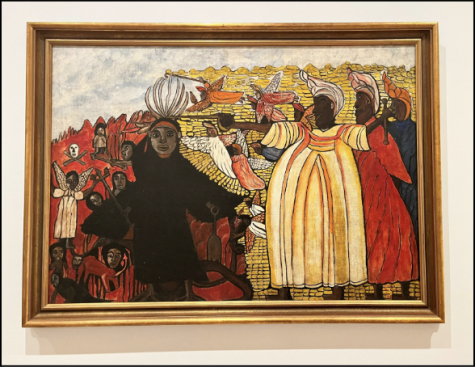 There were impressive and conversation-evoking pieces by the artists Mallica "Kapo" Reynolds, Valerie Maynard, Noah Jemison and Senga Nengudi that expressed feminine and black power through the use of watercolor, oil paint, linocut, acrylic wash, nylon mesh, sand and tacks. These artists took aspects of black culture and exaggerated them to make beautiful pieces that screamed Black empowerment.
Artist Jackson, the creator of the "MaeGame" piece mentioned earlier, said in the 1974 Synthesis group exhibition that "it's political to make an artwork about peace and beauty." She "wanted people, especially Black people, to see the beauty." Jackson firmly believes that "people need beauty. It's a way to get people to think or consider other ways of being." Jackson has produced multiple pieces for the "JAM" project and is a firm believer and supporter of the Black artists' drive for equality.
As a Black female visual artist, it's simple to see the passion, drive, and dedication that these artists put into their work and the development of the "JAM" galleries. The art is captivating, and each work tells a story in and of itself that lures the viewer in, radiating a bit of history from each specific piece. Even with its recent opening on Oct. 9, 2022, this gallery has already had over 700,000 visitors worldwide. Staying open until Feb. 18, 2023, this exhibition is one that everyone would enjoy alongside the other phenomenal and breathtaking works throughout the MoMA.