Swifties are suing Ticketmaster over 'Eras Tour' fiasco
Shortly after Taylor Swift released her 10th studio album "Midnights," she announced on Nov. 1 that she would be touring for the first time since 2018. The "Eras Tour" will consist of music from all the albums she has published since her debut in 2006 to her recent release. The pop star legend described the expected concert tour as being "a journey through the musical eras of my career."
Presale for tickets started on Nov. 15, and prior to that, Ticketmaster implemented a pre-registration system in which "verified fans" were allowed to receive a code to access the site, but some fans claimed that they did not receive one. This upset many listeners, but really was only the beginning of a long list of problems to come regarding Ticketmaster and sales for this tour. The Ticketmaster fiasco ultimately resulted in a lawsuit against Ticketmaster and its parent company, Live Nation Entertainment. 
Many fans who received codes spent up to eight hours in the queue, and some even had false messages pop up saying that their codes were invalid. Those who managed to get tickets had to pay much higher prices than what was expected, while others encountered scalpers who bought tickets for the regular price and resold them for thousands more.
Some Swifties even experienced the site crashing or not loading properly, and others were taken off the webpage because the site's software viewed them as being a bot. Ticketmaster later revealed that more than two million tickets were sold on that day, making it the most tickets sold for an artist in a single day. The next day of pre-sales posed similar problems for Swifties attempting to get tickets.
"I sadly didn't get tickets even though I tried during both pre-sales," said University junior Andrea Rosado, a huge Taylor Swift fan. "I truly felt really disappointed in the way Ticketmaster managed it and how deceiving they were during both sales."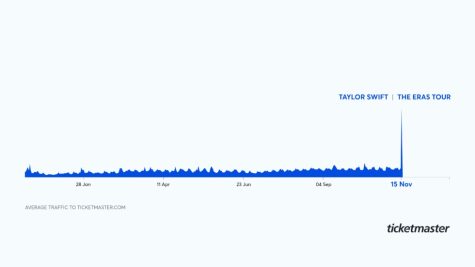 Ticketmaster announced on their Twitter account on Nov. 17 that they are canceling the regular sale to the public on Friday "due to extraordinarily high demands on ticketing systems and insufficient remaining ticket inventory to meet that demand." This came as a shock and betrayal to fans who were waiting to purchase tickets to see Swift live, and the artist even expressed her frustration towards the events that occurred, saying that it was "excruciating" to watch her fans struggle to obtain tickets. She mentions that she and her team were assured that Ticketmaster could handle the demand that would be expected. Ticketmaster later revealed a statement along with some information and statistics to justify the reasoning behind what happened. 
The ticket company explained that over 3.5 million people registered for the presale and that it was the largest registration they had encountered thus far, which was four times more than their previous peak regarding traffic. They also estimated that 1.5 million people were sent codes to join the sale and that the remaining 2 million fans were placed on a waitlist if tickets were still available after the previous set of people were finished shopping. There was also an influx of bots as well as fans coming on to the site who didn't have proper codes for the sales. This resulted in Ticketmaster slowing down wait times due to the high amount of traffic to stabilize the site, which resulted in longer time spent in queues for fans.
Swifties were very upset with Ticketmaster. As a result, a group of 26 fans is suing the company for "intentionally and purposefully allowing scalpers and bots to snap up tickets" and resell them for more than their original price. The lawsuit mentions that since Ticketmaster has its own resale market, it stands to gain even more money in fees from the reselling of already high-priced tickets.
Ticketmaster controls more than 70 percent of ticket sales at major concert venues with renowned artists and celebrities, which is why it was unavoidable for Swift to hold her ticket sales on that website. The lawsuit describes Ticketmaster as being "a monopoly that is only interested in taking every dollar it can from a captive public" and that its conjunction with Live Nation has made it the biggest ticket and marketing venue on the market. Swifties are demanding that Ticketmaster pay up to $2,500 for each violation that occurred under California's law prohibiting unfair business practices, which, given the millions of Swiftie fans, could add up to millions of dollars as well.