Why is no one talking about missing and murdered Indigenous women and children?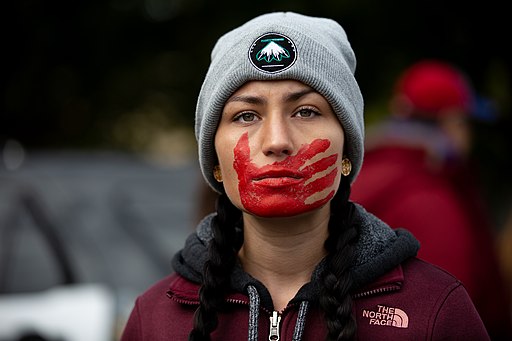 LIn the corridor of Highway 16 between Prince George and Prince Rupert in British Columbia, Canada is The Highway of Tears, a human trafficking site that holds the record for the most disappearances and murders of Indigenous women and girls since 1970. Over 80 Indigenous women and girls have been victims of the injustice, indifference and racism associated with this Canadian Highway.
Ty Defoe, a Native and Indigenous Peoples Studies Professor at the University, once stated that "our society tends to weaponize colonization." The colonized history we learn is often used to disregard and forget the history of Indigenous women, men and children. There are rallies, protests and movements to help uplift minority groups, such as the Black Lives Matter movement and LGBTQIA+ Pride, still, people often forget about the ongoing problems in Indigenous communities. 
The most prominent issue in Indigenous societies today is Missing and Murdered Indigenous Women (MMIW). Native families wish they knew where their relatives are and hope to find clues about what happened to them. Some Indigenous families even ignore when relatives struggling with addiction go missing. 
Studies show that about 34 percent of Indigenous women resort to substance abuse after their initial attack, and the government often lets these instances slip past their administration and the media.
MMIW is a disparagingly acknowledged epidemic that recognizes violence against Indigenous women and girls in Canada, the United States and Latin America. This notably affects those in the FNIM (Indigenous, First Nations, Inuit and Métis) and Native American communities. 
Across Latin America, it is estimated that Indigenous women and girls are disproportionately the victims of femicide, a hate crime that is broadly defined as "the intentional killing of a woman or girl, specifically by a man on account of her gender," but definitions vary depending on cultural context.
Indigenous women are more likely to be victims of violent crimes than all other ethnicities, and it is more likely that they won't receive justice for these crimes. The specific crimes of murders and abductions are often ignored and unsolved due to law enforcement agencies' lack of interest and motivation to protect and serve the Native people of the U.S. territories.
The Urban Indian Health Institute put together a study analyzing the data of MMIW from numerous cities. The study identified 506 cases, but the report also clarifies that this is likely an undercount. Murder is said to be the third leading cause of death among Indigenous women. In 2016, 5,712 murdered or missing Indigenous women and girls were reported, but only 116 cases were logged in the Department of Justice database. 
The Bureau of Indian Affairs estimated that approximately 4,200 missing and murder cases have gone unsolved, a number that has drastically increased in the past six years since the release of the study. Statistics on violence against Indigenous women are difficult to find in most government databases due to the lack of reporting by law enforcement.
Though there are many aspects of Native and Indigenous culture that are underrepresented and often forgotten, there are also people in American society who are making unwavering efforts to make this issue known in modern American society. For instance, Bethany Yellowtail is a Native American fashion designer based in Los Angeles and is known for work that reflects her Indigenous heritage. She serves as designer and CEO for her line B.Yellowtail. Yellowtail uses her fashion to tell the story of these Missing and Murdered Indigenous Women. 
Today, there's a movement dedicated to MMIW and a red handprint used to symbolize the Missing Murdered Indigenous Women movement. Beyond the effect of politics and detective work, the handprint is a way for artists and fashion designers to raise awareness.