Where to donate to help NYC's COVID-19 relief efforts
It can be heartbreaking to watch the effects of the pandemic unfold from home where you may likely feel unable to help local causes you are passionate about, especially if the University's closure forced you to leave New York City. Regardless of if you are able to volunteer from within the city, it is still possible to contribute and help the city's recovery from afar—listed below are a few ways to donate and get involved in supporting local relief efforts.
New York City's COVID-19 Emergency Relief Fund
In response to the pandemic, Mayor de Blasio created an emergency relief fund to provide resources and support to health care workers, essential staff, local businesses, hourly workers, and "families, youth, and vulnerable New Yorkers."
For those who can donate needed supplies like personal protective equipment, the state has also set up a phone number; you can call 646-522-8477 or email [email protected]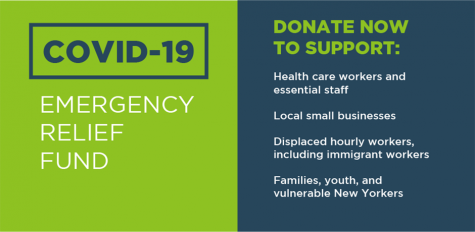 The New York Blood Center
If you have recovered from COVID-19, The New York Blood Center is looking for blood plasma donations to treat ongoing infections with the antibodies present in recovered patients. More information regarding the donation process, requirements and eligibility is available here.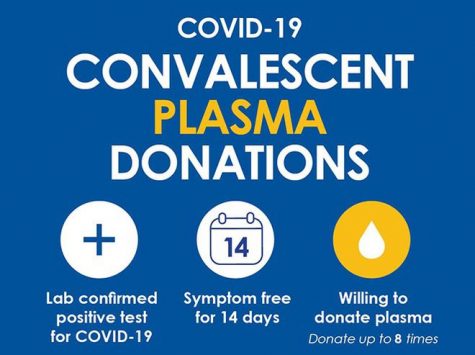 Fuel the Fight NYC
Originally started in Philadelphia, Fuel the Fight sponsors meals catered by local restaurants to NYC hospital workers. 100% of the money raised is used to buy meals from NYC restaurants in need of financial support and feed healthcare workers at hospitals like New York Presbyterian, NYU Langone, NYU Bellevue and Lenox Health. The group has created a GoFundMe to raise money as well as accepts donations via Venmo (@FuelThe-Fight-NYC).
You can also directly help support local businesses in the area by ordering food from your favorite small restaurants as opposed to major chains and, if possible, tipping generously for delivery workers who are tirelessly working to provide food for those at home.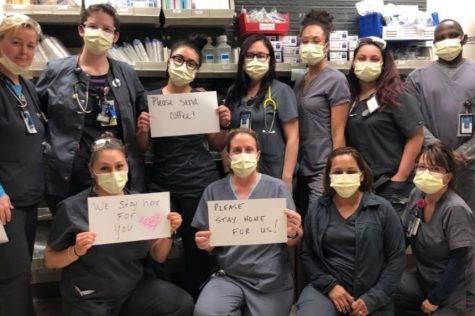 Selfhelp
Volunteers at Selfhelp can lead online sessions for homebound seniors based on a topic of choice, including art history, music appreciation, language learning and wellness. There are also opportunities for volunteers to host virtual game sessions like online trivia and crossword puzzles. The initiative is a fun and heartwarming way of checking-in on the senior citizen community affected by the pandemic in the NY metro area.
Invisible Hands
Invisible Hands works to bring groceries and supplies to those in high-risk demographics like the elderly, disabled and immunocompromised.
You can volunteer to make deliveries or donate to operational costs that the group describes as "purchasing protective gear to distribute to our volunteers, performing community outreach and maintaining our digital infrastructure."
NYC United Against Coronavirus
This frequently updated Google Doc created by volunteers contains hundreds of links to other aid efforts around the city.
The 27-page document is organized by borough and outlines additional relief funds, links to mental health and domestic violence support and provides other local information.
Aside from the ideas on where to donate listed above, this comprehensive list can help you find more specific initiatives to contribute to—ones that might even hold personal significance.