The Ws and Ls of the 2022 Grammy Awards
The 64th annual Grammy Awards took place on April 3 at the MGM Grand Garden Arena in Las Vegas, with Trevor Noah returning to host the ceremony. 
In a surprise turn of events, where bets were placed on Billie Eilish and Olivia Rodrigo to win, "Leave the Door Open" took home the awards for Record and Song of the Year. 
Jon Batiste, who was nominated for the most awards of the night at 11, won five of his awards, including Album of the Year for "We Are," making him the most decorated artist of the evening. 
19-year-old Olivia Rodrigo won three Grammys, including Best New Artist and Best Pop Vocal Album for "SOUR." Other notable wins of the evening included Tyler, the Creator winning Best Rap Album for "CALL ME IF YOU GET LOST," a clean sweep across the Rock category for Foo Fighters and Best Música Urbana Album heading home to Puerto Rico for Bad Bunny's "El Último Tour Del Mundo." The full list of awards can be viewed here.
The Grammys and other awards shows grow more tiresome as the years pass by, feeling more like a slog than ever. Nonetheless, plenty of exciting points in the evening kept our attention on the screen, and The Pace Press gives the rundown on what we consider the best and worst moments of this year's biggest night in music.
---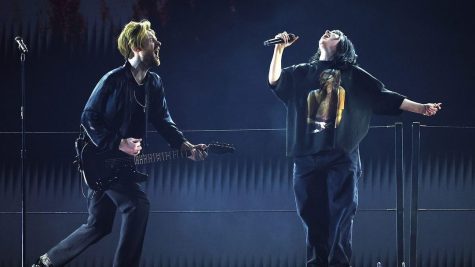 W: Billie Eilish is finally happier than ever
At the 2020 Grammys, moments before she won Album of the Year, Billie Eilish mouthed to herself "please don't be me" and appeared distressed upon hearing her name instead of looking proud. Watching Eilish then be unable to accept her achievements positively was almost upsetting at times, but two years later, despite winning nothing, she truly looked happy throughout every second of the show. Whether she was applauding a winner or cracking a smile on the red carpet, Eilish was at ease. She later performed "Happier Than Ever" alongside brother FINNEAS, wearing a shirt printed with a photo of Taylor Hawkins as a tribute to the late drummer, and for such a venomous and angry song, it has taken a new form as a collective catharsis, as seen on her latest tour. In a way, the rock performance was a fitting tribute to Hawkins without being overtly showy, and for Billie, "I'm happier than ever" once felt like a shrug, and now it is a proud declaration.
L: Trevor Noah and his writing team
Somehow, the Grammys have managed to make Trevor Noah painfully unfunny for a consecutive two years now. "The Daily Show" host was stocked with corny jokes throughout the night, and interactions with artists like BTS fell flat and came off awkward. It's highly possible that in the week following Slap Gate at the Academy Awards, the production behind the Grammys made fast changes to Noah's script to avoid any disturbances, given hysterical celebrity reactions (on both sides) to the altercation. Still, though, Noah appeared frantic and seemingly aware of the lack of punch in his two-dimensional script. Another unsuccessful gig for Noah doesn't reflect the same intelligent humor he exudes on "The Daily Show," so hopefully, he gets better material in future opportunities.
W: BTS performs "Butter"
BTS continues to remind audiences why they have such a dedicated fanbase each time they perform on American television. The K-Pop stars performed their Grammy-nominated single "Butter," and the dance-heavy performance centered around a secret agent theme, complete with a simulated laser navigation interlude. With all the meticulous production that goes into every performance of the night, despite being a minimal act, BTS's performance was captivating throughout and even snagged a charmingly adorable moment between V and Olivia Rodrigo. Even with a stumble up the stage by J-Hope, which went largely unnoticed, every point in their time on stage was effortless, and the band is simply larger than life.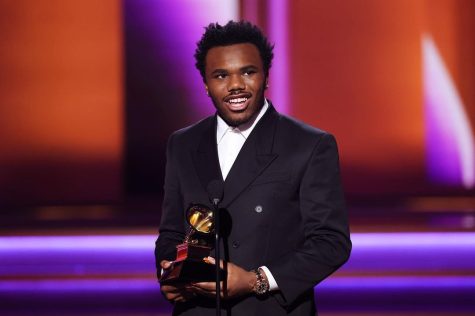 L: The pacing
Can award ceremonies be called award ceremonies if half of the night is spent watching back-to-back performances? Don't get us wrong, we love getting to see big stars like Lil Nas X and Brandi Carlile come together on the same stage, but as consumers, the fatigue settled much faster compared to last year, and the whole night felt like a drag. The entire rap category, minus Baby Keem's monumental win with "family ties," was announced during the preshow live stream, the same goes for the rock and alternative categories and essentially anything that wasn't in the complete mainstream. At last year's ceremony, this move to not showcase every award was a logical and safe choice, but in a world where regulations have already been so relaxed (despite surging COVID cases), the decision to jam as many performances into a three-hour slot just felt unfair. Gripe all we want, we know the Grammys will never be perfect, but the event was more of a chore rather than a special occasion.
W: In Memoriam
Despite his passing occurring so close to the ceremony, a special montage was made for Taylor Hawkins before the full In Memoriam segment commenced with a medley of songs by musical theatre composer Stephen Sondheim, who passed last November. Sweet and succinct, Hawkins's tribute was followed by the full honoring of those lost that year, including NYC legends DMX, Biz Markie, Ronnie Spector, Michael Lang and many more. If you want your heart torn out, count on a group of talented vocalists like Ben Platt, Leslie Odom Jr., Cynthia Erivo and Rachel Zegler to sing "Somewhere" from "West Side Story" to get the job done efficiently. 
L: J Balvin is outshined by his backup dancers 
J Balvin took to the stage early in the night to perform "Qué Más Pues?" alongside María Becerra and the Skrillex produced track "In da Getto." In the second song, Balvin rapped on an elevated stage, surrounded by hand choreography, which was visually exciting to watch, but it was clear that the reggaeton artist was limited by the set, and left to either stand in the center or pace back and forth between the rows of dancers. The innovative choreography became the focal point during the song and made Balvin an afterthought in his performance. The performance itself was nowhere near bad, but considering J Balvin's status, there was room for improvement, and overall it was lackluster.
W: NYC Pride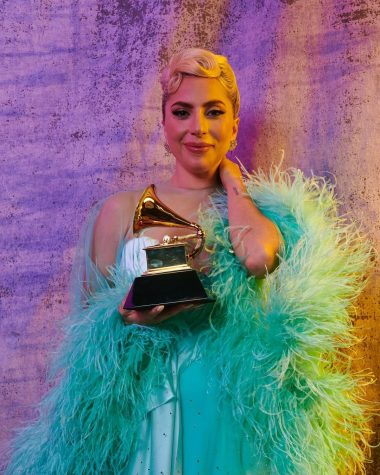 Even in Sin City, New York City was a dominating force throughout the night. Brooklyn singer Arooj Aftab won a Grammy for Best Global Music Performance, becoming the first Pakistani to do so, and St. Vincent took home the award for Best Alternative Music Album for her NYC-inspired record "Daddy's Home." Best known as the leader of Stay Human and the musical director of "The Late Show with Stephen Colbert," Jon Batiste was the personification of uncontained joy during his performance of "Freedom," before later winning Album of the Year. Hip-hop legend Nas performed a medley of his earlier hits and "Rare" from "King's Disease II," backed by a powerful band and pianist Robert Glasper, even shouting out his song "N.Y. State of Mind." Even in a bittersweet moment, Lady Gaga saluted collaborator Tony Bennett, who recently retired from singing, in a beautiful tribute to Cole Porter standards from their last album together, "Love for Sale." It's no surprise, but we're even more honored to call the city our campus on Grammys night.
W: Ukrainian Tribute
John Legend performed his song "Free" as Ukrainian creatives, including musicians Siuzanna Iglidan and Mika Newton, and poet Lyuba Yakimchuk showcased their talent to bring awareness to the ongoing conflict between Ukraine and Russia. Before their performance, however, President Volodymyr Zelenskyy introduced the performance with a harrowing yet hopeful message about the ongoing invasion, imploring viewers to spread awareness about the horrifying reality in Ukraine. What made this moment so impactful was how abrupt the tribute began. Without any clear warning, it forced those at home to recognize the absurdity of the ceremony and the futility of getting mad that your favorite artist didn't win an award that night, all while in real-time, Ukraine is under attack. There's no sugar-coating the gravity of the situation when suddenly, President Zelenskyy is broadcasting to the Grammys to urge viewers to help Ukraine in any way possible, almost out of desperation. If you were disturbed by the moment: good. That was the point. 
Organizations to support and donate to in the ongoing Ukrainian crisis: