An appropriately timed Harry Styles update
Since the release of "Fine Line" in December 2019, Harry Styles fans have loved living through this colorful, joyful era of the singer's career. Despite the pandemic interviews, music video releases, photoshoots and occasional performances have kept fans happy. Styles toured the U.S. in the fall with "Love on Tour," which lived up to the anticipation after being rescheduled in 2020. At the end of the U.S. leg, Styles hinted at new music, which was rumored to be released in early 2022.
On March 18, a mysterious Twitter account with the handle @youarehome tweeted "you are home," with another tweet coming the next day, reading "the door is open, come on in." An Instagram account with the same handle was discovered the same day, with a post of a slightly cracked door. Inside the door was an image of a plant, which was soon discovered to be the cover of Ralph Waldo Emerson's book "Nature and Selected Essays."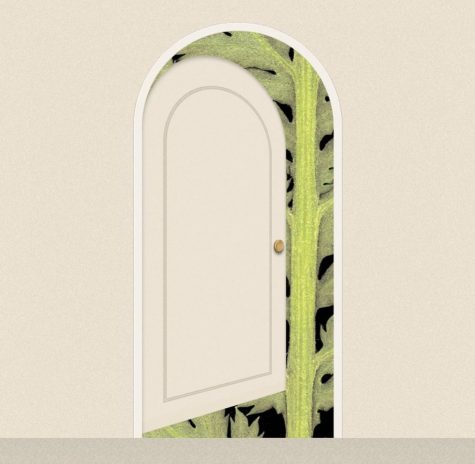 As usual, fans worked quickly to crack the code of these accounts and conspired they were related to Styles in some way, meaning that new music was coming soon. The Instagram account continued to post photos of the same door each day with different visuals, and the Twitter account posted small phrases that were assumed to be song lyrics.
Finally, the singer's third studio album "Harry's House" was announced on March 23 and is set to be released on May 20. The cover shows Styles standing in a living room, looking at furniture that has been flipped upside down, matching the aesthetic of the @youarehome posts. This long-awaited announcement led fans to wonder if Styles might release a single from the album soon after, based on how he has timed single releases in the past.
Sure enough, on March 30 at noon, photos of Styles in a glittery red jumpsuit facing a long hallway were posted on his Instagram and Twitter with the caption "As It Was. April 1." 
University sophomore Emily Alt shared, "I thought the release was so exciting! I've been anticipating new music from Harry for so long, so I started crying when the album was announced, when the song was announced and when the song came out. As a longtime Harry fan, it made me so happy to see it have such a wide, positive reception to the point where it even went to number one on the charts!
Alt continued, "I'm also glad he released it around the time he was playing Coachella because even though I just watched the live stream, it was still fun to watch him perform new songs live!"
The single release caused quite the craze on social media and was all anyone could tweet or post about, even those who admitted to not being much of a fan. "As It Was" dominated the charts, becoming the most-streamed song in a single day on Spotify in 2022 as well as the most-streamed song in the U.S. in a single day. It has also remained at number one on the Billboard charts since its release. The music video has almost 70 million views on YouTube.
University senior Jessica Paredes said, "Every time Harry starts a new album era it's the last thing you'd expect to hear but exactly what you needed to. 'As It Was' was not the glam rock style we predicted from his Grammy performance or the folk acoustic vibes from the 'Harry's House' album cover, but it was fun and upbeat to hide the existential lyrics that hit a little too close to home. I'm now so very excited for the album to come out but again expecting to be absolutely surprised and always blown away."
Styles was also recently one of three headliners at Coachella and performed "As It Was" live for the first time alongside two new unreleased songs. 
University senior Helena Rhodes shared her thoughts about the performance. "I think this was his best performance yet. I stayed up past 4 a.m. to watch the live stream, and his energy was unmatched. Harry is so comfortable in his own skin and it makes me feel comfortable in mine. He's come so far and I'm so proud. His confidence radiated all across Coachella and it was beautiful. He was so happy and energetic and just like being his true self as a performer."
Towards the end of his set, Styles surprised the Coachella crowd by bringing country-pop icon Shania Twain onstage with him. The two performed "Man! I Feel Like a Woman!" and "You're Still The One" together, Styles explaining that Twain was a big part of his childhood and his initial interest in music. During the second weekend of the festival, Styles brought out Lizzo, and they sang the Gloria Gaynor song "I Will Survive."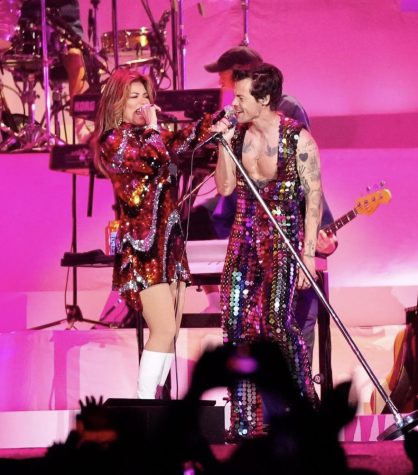 University senior Gabby Troise attended the first weekend and said, "Being able to see Harry on such a popular stage was a dream! His energy throughout the show was incredible, and the crowd was absolutely loving it. Hearing his new songs for the first time was iconic and Shania coming out was such an amazing surprise!"
Styles will kick off the second leg of "Love on Tour" this June and will tour the UK, Europe and South America. Additionally, rumors are flying that Styles could perform another "One Night Only" show, the first of which he performed in 2019 at The Forum in California after "Fine Line" was released. Some think there is a chance he could perform at Madison Square Garden soon after the release of "Harry's House." It has also been rumored that Styles could return to "Saturday Night Live," and a performance on "The Today Show" was recently confirmed.
As usual Styles is making an explosive comeback with his new album, and fans are excited to enter this era of his career with him as he takes over this summer!