Matt Schneider is electric in the East Village
The crowd has no choice but to spoon their neighbors as they cram into the back room of the Bowery Electric, a live music venue in the East Village. Loose rows of people impatiently sway from foot to foot resembling waves. A typical calm before the storm. And then the storm came.
University senior Matt Schneider, a small indie rock singer-songwriter, weaves through the crowd with his band trailing behind lugging their instruments on the stage that raises no more than eight inches from the ground. Everyone around campus calls him Schneider, which is what every encouraging hoot and holler from the crowd was followed by. Schneider pulls the excitement from audience members like a riptide, building up the energy in the room until finally: it breaks.
Schneider slings the crowd into gear by opening with a cover of "Times Like These" by The Foo Fighters. He follows with another cover before introducing his newest single "Short Living." The audience shows their familiarity by standing in as back up, humming the words along with him. They end their set with 20 minutes of leeway time on stage and a crowd barking for an encore. Schneider and his band boomerang back with the beginning of "Teenage Dirtbag" by Wheatus. The crowd jumps in a cohesive bounce, sardined too tightly to be off rhythm from one another. Schneider and his band finish with an impromptu cover of "Come As You Are" by Nirvana before denying the crowd of their requested third encore.
This was Schneider's first time performing at the Bowery Electric, breaking his history of frequenting Club Groove on MacDougal St. and in Berlin Under A predominantly during the Summer of 2021. Schneider explained that although he loves the vibe and opportunities both venues have given him, he's now trying to jump around new venues to make new impressions and make more connections throughout the city.
Schneider fronts his shows on vocals and lead guitar, with back-up musicians that he rotates depending on the gig, to support him on bass, drums and rhythm guitar. While he has musicians he routinely invites back to play, he typically tries to bring in at least one new person each gig. 
Schneider was born and raised in Long Island, New York and began playing guitar at four years old. He takes a lot of musical inspiration from Brian Wilson of The Beach Boys, Sam Fender, Flipturn, John Meyer, Pearl Jam and Paul Simon. Brian Wilson became a role model to Schneider because of his ability to know music by ear rather than by theory.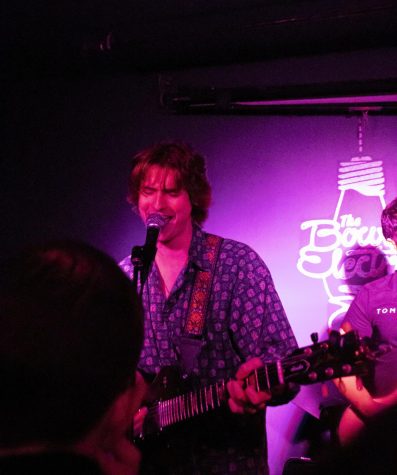 When asked why he only has one song out despite the length of his music career, Schneider explained that he only wanted to put out music he was really proud of, and while he had no shame for his original music, he confessed to be picky about the production quality. "If I'm putting something out there with my name on it, I don't want it to feel anything less than perfect."
Matt Schneider is in the second half of his senior year, pursuing a degree in Marketing at the University, and when asked what his plans were after graduation, he told me I was looking at it.
"I want this life. Music isn't just some hobby I'm pursuing on the side until I get some nine to five. Music is my future and I'm certain. Because all of this? This isn't worth your time if you have even a shred of doubt."
While he may plan for another show in late April, at the moment his main focus is finishing up his last semester at the University and putting out more music. Even if Schneider doesn't gig again this spring, readers will still have the opportunity to support him live as he plans to remain in the city after graduation.