Maya Hawke holds intimate performance at University event
Maya Hawke, breakout "Stranger Things" star and up-and-coming indie musician, awed University students on March 10 by making the University a pit stop on her 2023 tour.
Many students, those who snagged one of the limited tickets for the event, arrived an hour early to buy exclusive merchandise, chat with other fans and get involved with the P.A.C.E. Board social media. P.A.C.E. Board was all over Instagram, making videos and posting photos of students attending the event. 
Doors opened at 7 p.m. and students entered the dark and purple-lit Student Center in One Pace Plaza. Though there was ample space in the room, students crowded toward the stage, which was a rustic setup complete with a Pace Press newspaper stand, Caf drink stand, maintenance ladder and miscellaneous smaller objects such as an empty Altoids tin and Perrier bottle, hoping to get as close to Hawke and her band as possible.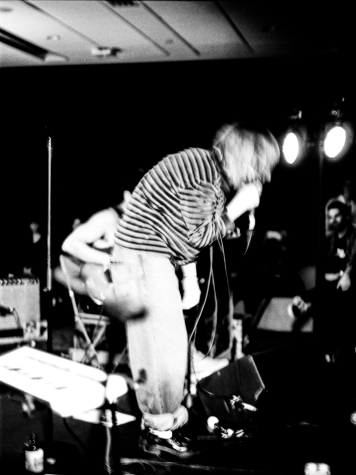 Before Hawke came out, her grandparents, mother and two younger sisters got settled into their reserved seats beside the stage. Whispers of students erupted at the sight of Uma Thurman, but her presence was quickly forgotten when Hawke took the stage promptly at 8 p.m. 
Hawke appeared nervous at first, alongside her three band members, but warmed up to the student audience very quickly. She joked when she first walked on, "I'm very aware of all the empty space at the back of this room. There's a part of me that feels like as the show goes on people could sit down… My heart beats with the space in the back of the room." She rambled on for a few seconds before stopping and saying, "Maybe we'll try it later." 
She then asked students if this event was mandatory, and a resounding "no" sounded throughout the room. Pleased, Hawke said, "I'm really glad to hear it's not mandatory. That was my deep and profound thundering fear."
Hawke sang songs from both of her full-length albums. "Moss," a September 2022 release and the reason for her tour, took up most of the concert, though she sprinkled in songs from her 2020 "Blush" album and even gave students a sneak peak at a song they are working on for her upcoming album.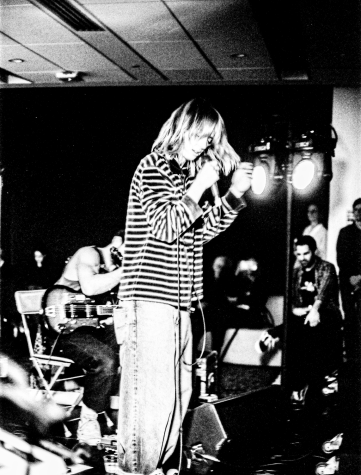 Hawke spoke to the audience in between each of her songs, telling stories of how the songs were written and of her own personal life. She stated that she regretted dropping out of college after one semester, even though she had a successful gig on the infamous "Stranger Things." She stated that she felt like she was missing out on the college experience but was happy that she was asked to perform for a university.
To the side of the stage, her younger sisters giggled at some of the sexual explanations of her songs–she gave the audience advice, "You should never fake an orgasm"–while her grandfather gleamed with pride and recorded nearly every song on his iPhone. 
Her band was complete with three other members, who introduced themselves and the instruments they play, as Hawke stated she is not as familiar with musical instruments as they are. Will Graefe, who switched between various electric and acoustic guitars, also provided backup vocals for each song and was a featured vocalist on one. Benjamin Lazar Davis, also on guitar and backup vocals, was tasked with playing the smallest keyboard and even used University props as a drum for one song. Michael Riddleberger completed the band on drums and backup vocals.
Toward the end of the concert, Hawke looked toward Graefe and asked him, "Should we do it?" Will looked at her and said, "We have to." Hawke then took the mic and said, "Okay, we're going to pretend to encore," and explained that they'd be right back after they pretended to leave so they could do their three-song encore.
Students laughed and cheered when they came back out for their final three songs, and after the concert was over, students moseyed around the room and lined up at the merchandise table while they chatted with other concertgoers about the spectacular experience.