On Sunday, August 25, Brooklyn was the world's stage when MTV brought their annual Video Music Awards to the Barclay's Center. The Pace Press was fortunate enough to receive the opportunity to attend the highly anticipated event after obtaining tickets from the casting site, 1iota.com. Stunning both on screen and behind the scenes as we saw it, the show is bound to have individuals buzzing for weeks.
Coordinators for the event held those chosen to be pit members at the Brooklyn Academy of Music from 4pm to 7pm, then very carefully walked the entire audience over to the Barclays Center, cautious to prevent intrusion by any of the thousands of fans standing outside of the venue by mandating chosen audience members to hold our wristband-clad arms in the air at all times and walk in tight-knit groups of three.
When we entered, the Barclays center was hardly recognizable, adorned with all kinds of VMA embellishments. Upon walking into the venue, a giant moonman was the central focus of the room, followed by two others stages, a silver DJ booth, and the enormous main stage, which was set in white for Lady Gaga's opening song "Applause." The crowd in the pit area spent half an hour rehearsing movements to accommodate different acts of the show, and then watched excitedly as celebrities trickled in, giving way to bouts of cheers and applause when stars like Taylor Swift, Will Smith and Rihanna arrived. One half of the stadium was reserved for celebrities, and the other half for those who had purchased tickets for the event. All those in the pit area received tickets free of charge from 1iota.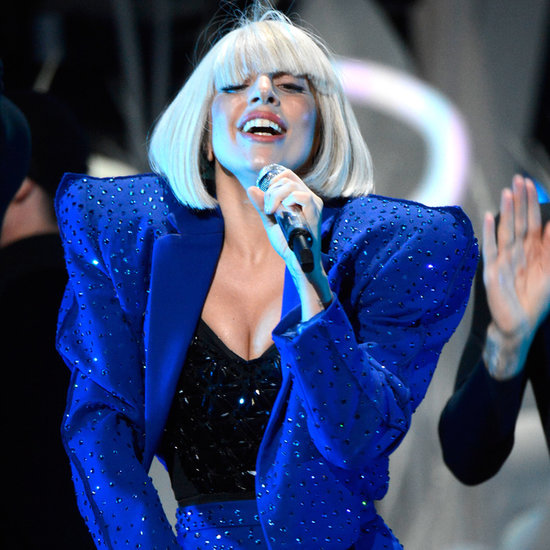 After the Barclays audience was hyped up by DJ Cassidy's playlist, the show commenced. Lady Gaga opened, clad in white and going through several costume changes throughout her performance. Some fans were surprised at how low key the performance was, given Gaga's past getups (who could forget her meat dress?) Nevertheless, fans in the pit cheered wildly, and Gaga seemed quite pleased herself when she finished the act in her seashell bra and thong.
Perhaps more memorable were the events that directly followed Gaga's act. Popular boy band One Direction presented Selena Gomez with "Best Pop Video" for "Come and Get It," and Taylor Swift was shown next to Gomez allegedly mouthing the words "shut the f–k up" –perhaps intended toward her old flame, band member Harry Styles. Some, however, say that Swift was saying something much different to pal Selena Gomez, something along the lines of: "sorry for my arm." (Taylor's arm was around Gomez.) Swift hasn't commented on the rumors.
Following this was perhaps the most controversial moment of the night: Miley Cyrus took the stage by popping out of the gigantic Teddy Bear (finally resolving the confusion many of us originally felt when we saw it on stage during the preparations prior to the live show).
Cyrus held nothing back, provocatively performing her single "We Can't Stop" with some extreme twerking and incessant sticking out of her tongue. Things got even raunchier when Robin Thicke entered to duet with Miley for his single "Blurred Lines." Cyrus changed into a revealing skin toned bra and short shorts combo and proceeded to fondle Thicke with a large foam finger. There is absolutely no doubt that those of us in the pit were just as surprised as those watching at home. Many of the fans we were joined by in the area exchanged perplexed glances. The celebs seated across from us either forced smiles, or simply let their shock show, giving confused facial expressions and whispering to their famous counterparts. Cyrus enjoyed a portion of the show after her performance, and then left the VMA's early.
Despite this, the show continued smoothly, with Justin Timberlake's incredible twenty-minute show-stopping performance that gave way to an indescribable shift in energy in the arena. Just when we thought it couldn't get any better, '90's generation kids around the world teared up with excitement when it turned out that the 'N Sync reunion rumors were true. Even Taylor Swift was experiencing intense "fangriling" moments. The band briefly performed their hits "Girlfriend" and "Bye Bye Bye," and Justin finished his performance solo, then being presented with the Michael Jackson Vanguard Video Award by his pal Jimmy Fallon.
Appearances were also made by new dad Kanye West, Drake, and Bruno Mars. The energy in the venue was unbelievable. Celebs mingled throughout the night, exposing many captivating untelevised moments: Gaga happily danced in her seashell bra, Taylor Swift exchanged secrets with Selena Gomez and gave bitter glances to One Direction, who were awkwardly seated very close behind her. Swift also gave fellow artist Drake a friendly hug during a commercial break. Will Smith and his family rocked out to the playlist during commercials, and other noted celebrities connected throughout the night, taking photos and being served drinks by the Barclays staff and enjoying DJ Cassidy's playlist that ranged from Nirvana to Estelle during commercial breaks.
The night ended with a performance by Katy Perry in an extremely packed Brooklyn Bridge park. Fans enjoyed Perry's performance of her most successful single yet, "Roar," which was staged in a boxing ring. This was televised in the Barclay's Center as well, but antsy celebs began to leave the venue not long after Perry started.
Overall, the VMA's were a noteworthy experience for both those who attended and those who watched from home. The show continues to receive an immense amount of attention, and many are already eager to see how artists next year top all the wild moments of this year's show.